Over the last few years I have really enjoyed taking time off between Christmas and New Years to unwind or explore other destinations.
This break, with borders still uncertain, I planned a road trip to Bremer Bay, Esperance and Hyden with my long-time friend Emily.
We took off on Boxing Day and headed the five and a half hours to Bremer Bay in Australia's South West, stopping in Wheatbelt country town Katanning (approximately half way) for lunch on the way.
Once we arrived to a cool and cloudy Bremer Bay, we settled in and then went for a wine at Main Beach. Conveniently we were staying right next to the local pub – Mount Barren Restaurant – so we enjoyed an early seafood and salad dinner there.
As it was cooler weather in Bremer Bay, we decided to wander into Fitzgerald River National Park for our full free day. We grabbed brekkie and some Seaside Scrunchies made by a local 12 year old from the quirky Museum Cafe on the way.
The majority of the journey to West Mount Barren and Point Ann, which we explored, was on unsealed and very bumpy road. My little Mazda was shaking and rattling the whole way… I'm surprised nothing shattered or snapped. I did see a smaller car than mine on the journey which gave me the confidence to get us to our destinations.
The first stop was West Mount Barren, a 355 metre high summit, which took us approximately one hour to walk the 1.7km return trail. It was the first time hiking with my new hiking shoes and it felt so good, like I had total control. The diversity of the plants neighbouring the trail were some of the most beautiful I have seen on a hike. Everything was so rich and vibrant in colour. At the top of the summit it was a little hazy with views over the national park, coastline and Bremer Bay.
We continued the bumpy unsealed road to Point Ann on the coast, a whale-watching site from June to October. It was beyond beautiful! We walked the Point Ann Heritage Trail admiring the beauty of the nature and views and learnt the history of the old rabbit proof fence.
Back in Bremer Bay, we drove the Point Henry Drive Trail from Main Beach to Fisherys Beach, Tooroburup Hill overlooking the bay, Short Beach, Blossoms Beach and Little Harbour Beach.
We had an early dinner at the Bremer Bay Brewing Company which had a delicious burger and finished our day with the sunset from Main Beach.
We ended our time in Bremer Bay with a coffee from The Telegraph on Bremer, stationed inside an old telegraph station.
We then drove two and half hours to Barrens Beach, on the other side of Fitzgerald River National Park next to peaceful coastal town Hopetoun, to do some snorkelling. It was still quite a cool day with a strong breeze, so we only managed a short snorkel followed by some relaxing time on the beach – lucky the sun came out. I wouldn't recommend it on a windy day as the snorkel isn't really worth getting in the water for.
After lunch we drove another two and a half hours to Esperance after a quick petrol and coffee stop in sheep and wheat town Ravensthorpe.
After getting our bearings around town, we enjoyed an early dinner at the local pub, Pier Hotel, which was conveniently right next to our accommodation.
Our first full day in Esperance was spent in Cape Le Grand National Park after a visit to the French Hot Bread Shop which has a selection of delightful pies, pastries, sandwiches and cakes.
Our first adventure in the national park was hiking Frenchman Peak, 55km from Esperance town. The granite peak is 262 metres high and the 1.5km trail to the top took us approximately one hour return. The journey is walking up and down granite rock most of the way – thank goodness for my new shoes giving me amazing grip!
There are various viewing points around and above the peak, and the peak offers a spectacular outlook.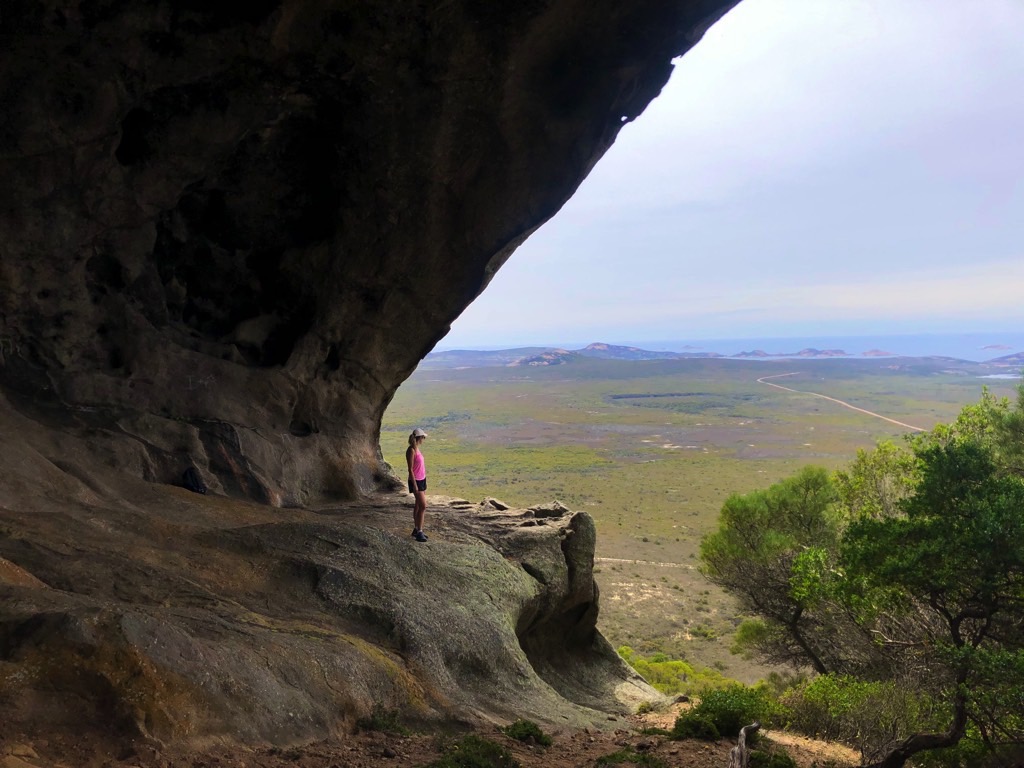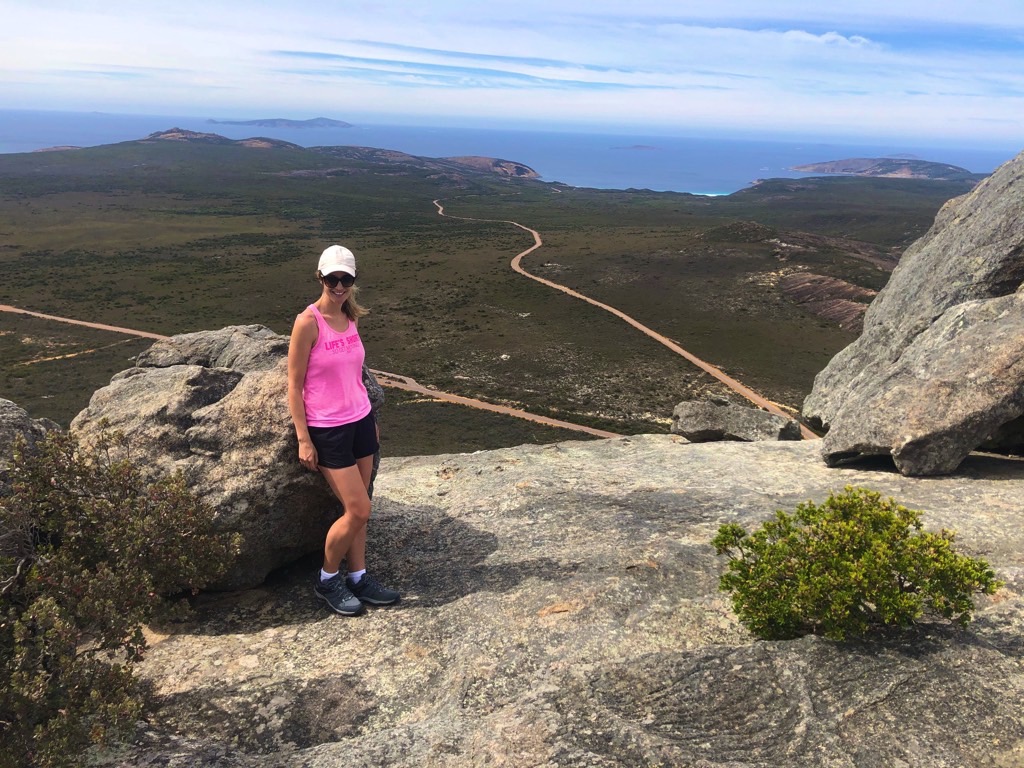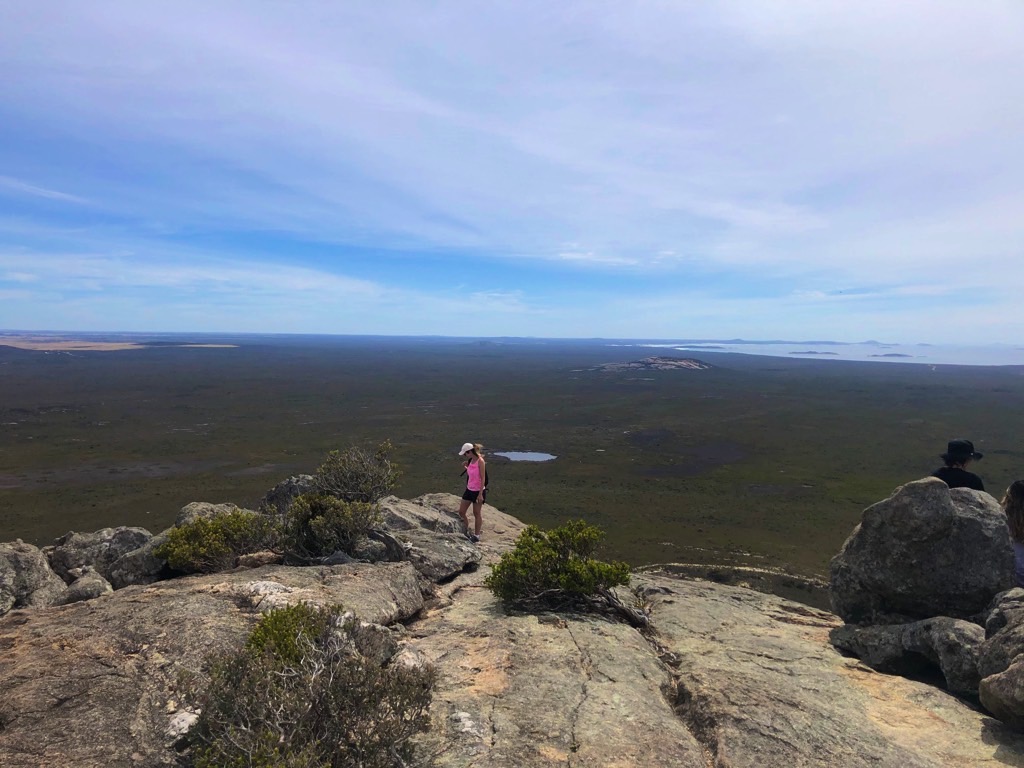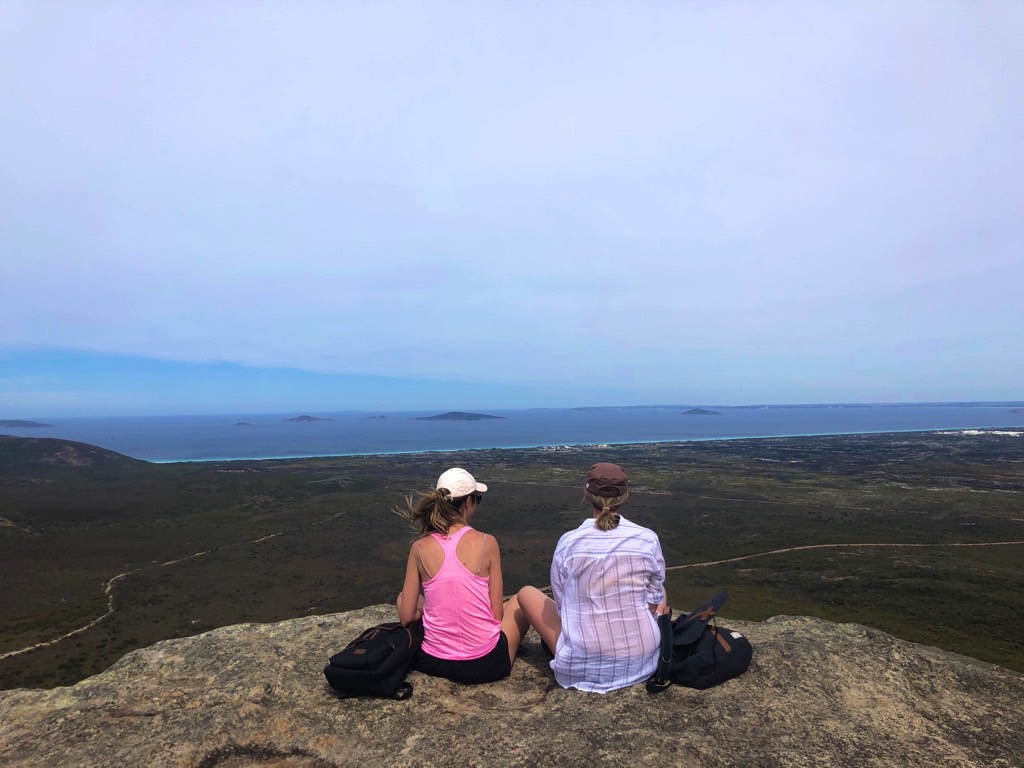 We spent the afternoon at Lucky Bay, known for it's white sand, bright blue water and resident kangaroos. It was a little disappointing to see four-wheel drives crowd the length of beach, though I'm told it's not that busy outside of school holidays.
We swam once the breeze calmed down and walked the length of the bay where it was much quieter and picturesque. We only saw two kangaroos pop out to enjoy someone's leftover food on their picnic blanket. The campsite next to Lucky Bay looked like an amazing spot to camp.
Before leaving the national park, we drove to the remaining bays to help us decide which coastal walk we would do the following day. Rossiter Bay was along an unsealed road and not the most picturesque bay. Thistle Cove was beautiful and secluded with not many people – you had to walk over a large rock to get down to the cove. Hellfire Bay was a similar scene but easier to get down to the bay with a staircase.
That night we treated ourselves to a nice dinner at Taylor Street Quarters. The best part about staying in town was everything was within walking distance.
The next day we drove to Hellfire Bay in the national park to commence our coastal trail walk to Thistle Cove. There are four trails to choose from totalling 20km and we decided this one would be the most secluded and scenic, which it was, and we wanted to spend time at both destinations.
The trail was 4.7km each way and took approximately three hours return. I recommend parking at Hellfire Bay for the walk as you do the hardest part of the walk near Thistle Cove and when you arrive at Thistle Cove you end up at the quieter less touched side of the cove. Parking and access to the walking trail is easier at Hellfire Bay too. The walk was a mix of sandy paths, granite rock and smaller rocks.
We spent a relaxing hour at Thistle Cove swimming, snacking and photographing. Once we arrived back at Hellfire Bay, we had lunch on the beach and a quick swim before the weather started to change.
We ended our time in Cape Le Grand with a visit to Cape Le Grand Beach where the main campground is, but it was super windy by now with sand flying everywhere so we drove in and straight out.
We stopped into Esperance Distillery Co on the way home for a refreshing drink. However, they only currently have a single gin tasting or bottles for sale.
We had FishFace fish and chips for dinner, braving the foreshore wind, and ended the night with a drink at the pub.
The next day was New Year's Eve and it was a rainy start to the day so we had a fairly relaxing morning. Once things started to clear up we drove along Great Ocean Drive, a 40km circular loop to the various Esperance beaches – West Beach, Salmon Beach, Twilight Beach, 11 Mile Beach, and the not so 'pink' Pink Lake.
We enjoyed a filling lunch at the very busy Lucky Bay Brewery sharing pizza, gözleme and smoked chicken wings, whist trying their Sandy Hook Pale Ale.
We started our New Year's Eve celebrations with a cheese board and a bottle of Idée Fixe sparking. We then went to the Pier Hotel where we were planning to spend the night but met some locals and joined them at a house party – so we got to see in the new year with sparklers!
New Year's Day started with a pie from the French Hot Bread Shop. It was hilarious people watching. We met our new friends at West Beach and sighted some dolphins before a new year dip at Blue Haven Beach.
We ventured to Wylie Bay by four wheel drive – it was a stunning beach – and drove to the top of the rock to enjoy the views over the bay, national park and Esperance town.
We ended our time in Esperance with another outing at Lucky Bay Brewery – this time for dinner. It had a lovely afternoon vibe with a live musician accompanied by pizza and beer. It was much more relaxing and less crowded than our first experience there.
From Esperance we drove to Lake Grace, which was almost four hours away. We enjoyed a nice home made lunch at Rosie's Cafe and Bakery and visited the salt lake which had dried out.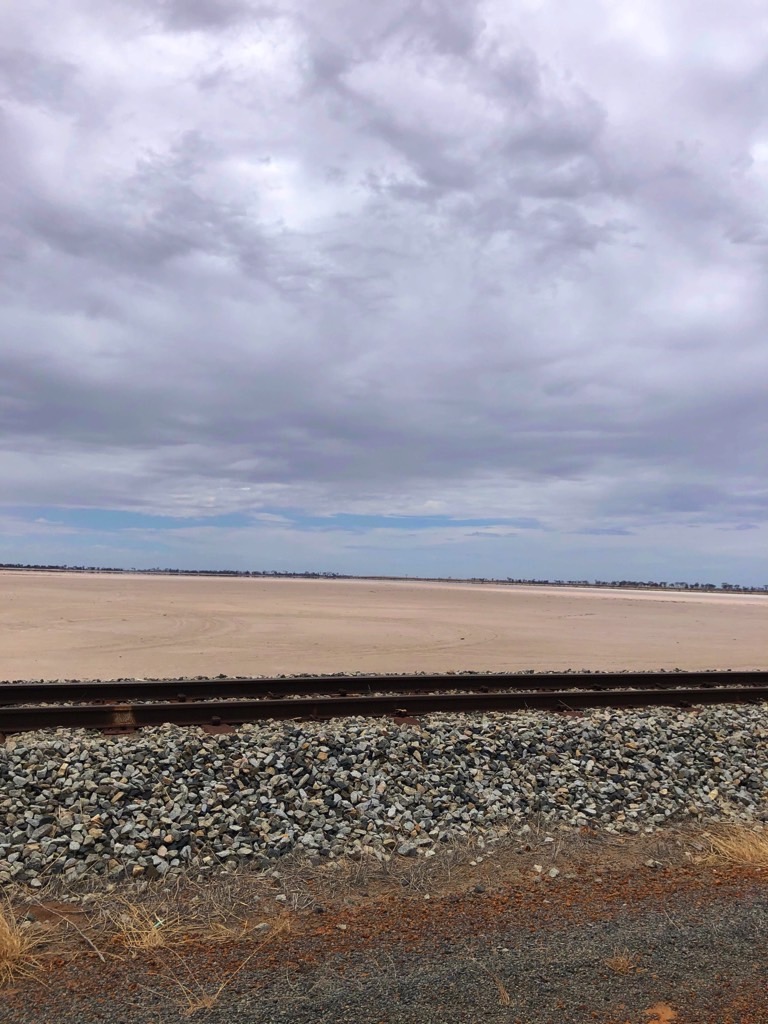 We drove through Kulin to see the Tin Horse Highway, a 15 kilometre entertaining stretch of road with themed displays of tin horses.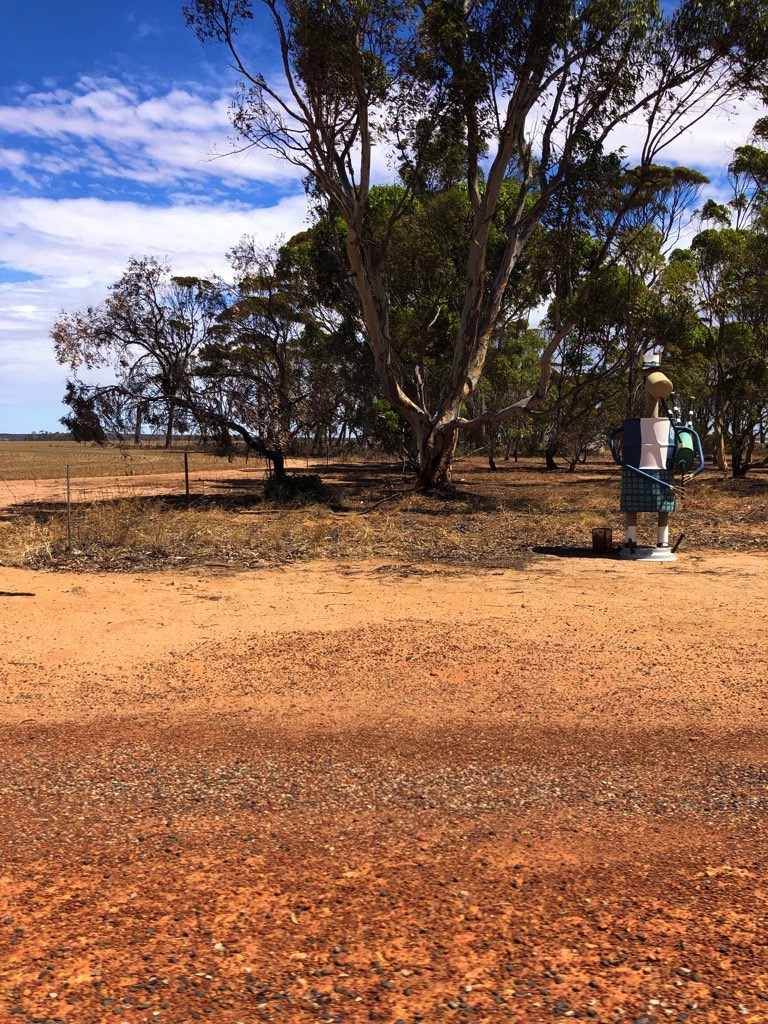 After arriving in Hyden mid afternoon, we went to explore Wave Rock and Hippo's Yawn. The rock itself was quite high but I had assumed it was longer. You have to be lucky to find a gap between tourists to have it to yourself.
From Wave Rock we took the 1km loop trail to Hippo's Yawn which was a granite rock in that exact shape.
We drove to Mulka's Cave, a creepy old cave that used to be home to Aboriginal legend Mulka.
We ate dinner at the Wave Rock Bar & Bistro which was an experience of its own. You had to cook your own protein on the barbecue-like hot plate… it really made us feel outback. We settled for the salad bar which was well worth the $20 with plenty of vegetables, bakes and salads.
We drove home on a Sunday and struggled to find bakeries open the first couple hours of the journey so settled for a roadhouse in Brookton.
After more than 2500km, plenty of wild Australian animals and many lonely paddocks, we were home and back to the reality of another work year.
Can't wait to share my next wander to Jurien Bay soon.
LWL xxx