Late last month I wandered to Kuala Lumpur and Penang for the first time on an educational trip.
We were only in Kuala Lumpur (KL) for two nights but fit in a good amount of attractions, food and culture. We flew in at 8am and it was about an hour's drive from KLIA1 Airport to central KL and the Parkroyal Serviced Suites in the Bukit Bintang area where we were staying.
We took the monorail to visit the Petronas Twin Towers. We went inside and were planning to go up to the Skybridge and Observation Deck but the first available time slot was 5.30pm which we couldn't make due to other engagements. I highly recommend pre-booking a time through their website if you would like to go up. We checked out the exhibition and gift shop while we were there.
We found our way by MRT to the Central Market which was full of good quality Malaysian handicrafts, souvenirs and batik items. I'm not much of a market person so didn't do any shopping but I did enjoy lunch there.
Then it was time to cool down at our hotel's rooftop pool more than 30 floors up. It had a great view over the city too.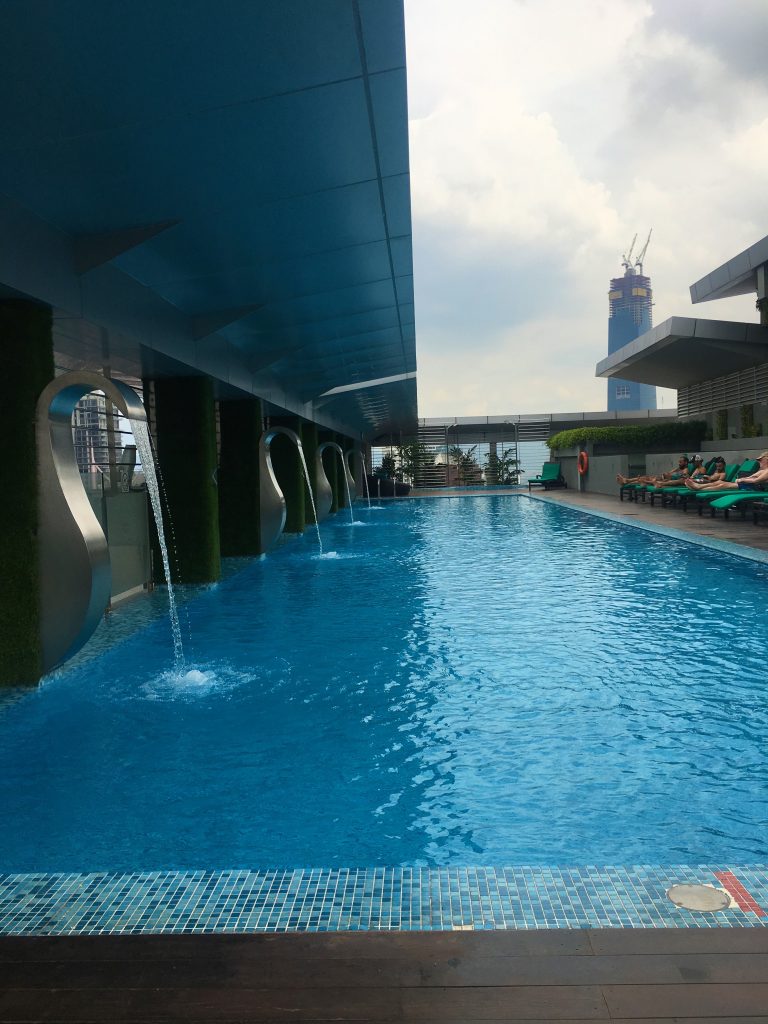 The next morning we visited the Royal Selangor Visitor Centre. The centre takes you through the history and exhibitions of this famous pewter product, the factory with demonstrations of how products are made and the gift shop.
We visited a Batik factory where staff demonstrated creating designs using batik dye techniques. The factory had clothing, sarongs, bags, prints and more for sale.
Batu Caves was a stand out. It's a cave in the outskirts of Kuala Lumpur with a hindu temple and shrine inside. The day we visited there was a hindu festival so there was a lot of culture, music and festivities. We walked up the 250-plus steps to the cave. Once inside further stairs took you up to another level where the cave opened up to beautiful natural light. There were also monkeys everywhere.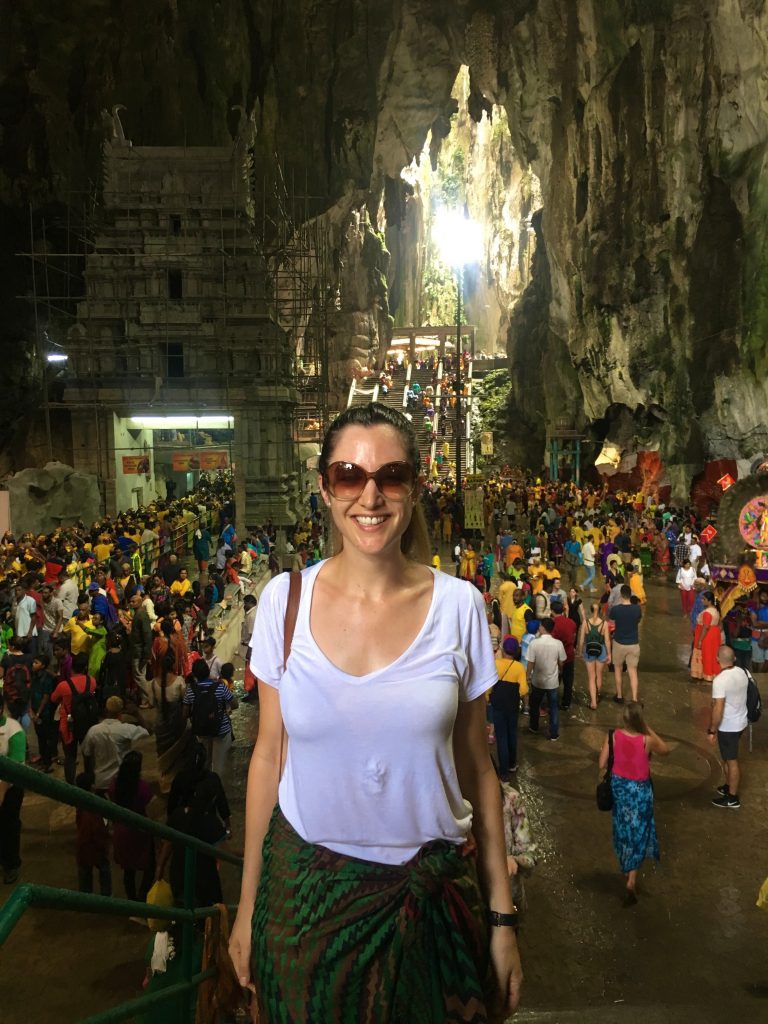 That afternoon I tried to find a new handbag at the Pavilion Shopping Centre which is a designer paradise but with no luck. I did have some amazing chicken satay for lunch while I was there though.
Seen as I couldn't go up the Petronas Towers I decided to try KL Tower which stands 421m high. I went to the observation deck and could see the Petronas Towers to one side but didn't really know what else I was looking at besides high rise buildings.
One of the most unreal experiences of the trip was Dining in the Dark, literally eating in pitch black. It took a while to get my bearings when I sat down but it's amazing how much more you use your other senses when you can't see what you are doing. We enjoyed four courses and I even managed some wine, trying to guess what we were eating along the way. At the end of the experience we were presented with the menu – luckily there weren't any strange surprises.
After our eyes adjusted back to normal light we enjoyed some bar hopping along Changkat Bukit Bintang street meeting locals and other tourists. There were great happy hour deals at Healy Mac's and Mango's. I must say Kuala Lumpur does put on a good night out.
I was very impressed with my first experience in Kuala Lumpur. It's not a city you need to spend weeks in but definitely three to five nights.
I will share all about Penang Island in my next post.
LWL xxx