A weekend in Noosa Heads was a nice contrast to our couple of days on Fraser Island.
The simple things like air conditioning, a nice bed and soft towels at our Airbnb, plus choosing when you wanted to be sandy, were so welcomed.
We arrived into Noosa around 4pm and after freshening up at our apartment in Noosa Junction, wandered down to Main Beach for sunset.
We had an early dinner and drinks at the surf club overlooking the ocean. The meal sizes were so big. We soon realised nightlife wasn't a thing in Noosa with things quietening down by 9pm so we headed home for an early night.
The next morning we got ready for the day and headed to Hastings Street for breakfast at Cafe Le Monde. I had the miso mushrooms with poached eggs, spinach and pecorino and Tash had the green bowl.
We were then ready for our coastal walk around Noosa National Park overlooking Main Beach, Little Cove, Tea Tree Bay, Granite Bay and Hell's Gates. The water and views were so picturesque and we had perfect weather once again.
On the way back from Hell's Gates we stopped at Fairy Pool Noosa Heads, which are natural tidal pools. Lucky for us it was low tide so it was easy to get down to and soak up. The colours were so beautiful.
We enjoyed a swim at Little Cove, where the water was a nice temperate and the cove was protected from big waves so it was a nice relaxing experience and much needed after the warmth of the coastal walk.
We wandered down Hastings Street – the main shopping and dining street of Noosa – and decided poke was on the menu for lunch from Coconut Head Superfood Bar, a cute little takeaway bar. It was so fresh and delish!
We spent a couple of hours swimming and relaxing at Main Beach before taking up Boardwalk Bistro on Hastings' happy hour $2 oysters from 3-5pm. The view overlooking Main Beach was so nice – we could have sat there for hours soaking it in.
After our oysters and cocktail, we walked 20 minutes to Noosa River Mouth Sand Bar, where the river meets the ocean, for sunset. There were lots of windsurfers and locals having picnics.
It felt like we were eating all day but we still managed to dine for dinner. We stayed local to our apartment and enjoyed Asian tapas at Light Years on Sunshine Beach Road.
The food and cocktails were divine. We shared scallops, caramel pork belly bao, fried chicken and Vietnamese slaw – yum! Needless to say we ended the day in a food coma.
After dinner we had a drink up the street at Village Bicycle bar which was a very eclectic mix of personas. It definitely made for entertaining people watching.
Our last morning started with breakfast (surprise, surprise) at Canteen Cafe. We both had the beetroot and avocado with sides – haloumi for me!
We went for a walk through Noosa National Park to Noosa Heads Laguna Lookout which had views over Noosa, the bay and coast, and mountains in the distance. It was nice, although a little hazy.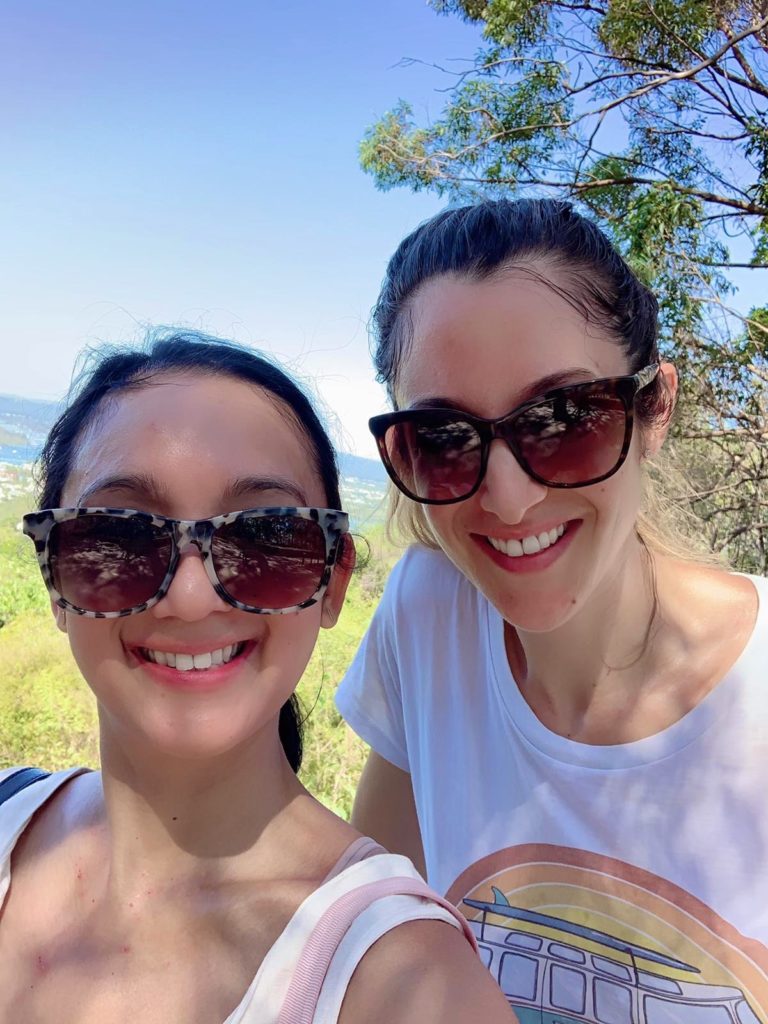 It was then time to pack up and get ready for our bus journey back to Brisbane. We caught the Greyhound service from Noosa Junction bus station which was an approximate two and a half hour drive, with a couple of pick ups along the Sunshine Coast on the way.
It was a really lovely long weekend having a visitor to wander Fraser Island and Noosa with, and we seriously had some amazing weather. I would say I did get a little bored in Noosa in terms of vibrancy and nightlife so two nights was definitely enough.
Next up is Cairns and Port Douglas in a couple of weeks before I say goodbye to the east coast and head back to Perth.
LWL xxx