Somehow I managed to pack my life up in Perth within four weeks and move myself and two suitcases to Brisbane.
I had been wanting to step away from travel consulting and back into the marketing space over the last six months and have managed to combine both travel and marketing into a position in Brisbane.
I've settled in quite well to Brisbane life in the last two and a half weeks, thanks to having a job and apartment organised before I arrived. It was just a matter of getting my room set up and my initial bearings, and with the help of my mum who flew in with me, it didn't take long. I've found it's a fairly similar city to Perth, just a warmer climate, which I have enjoyed since arriving.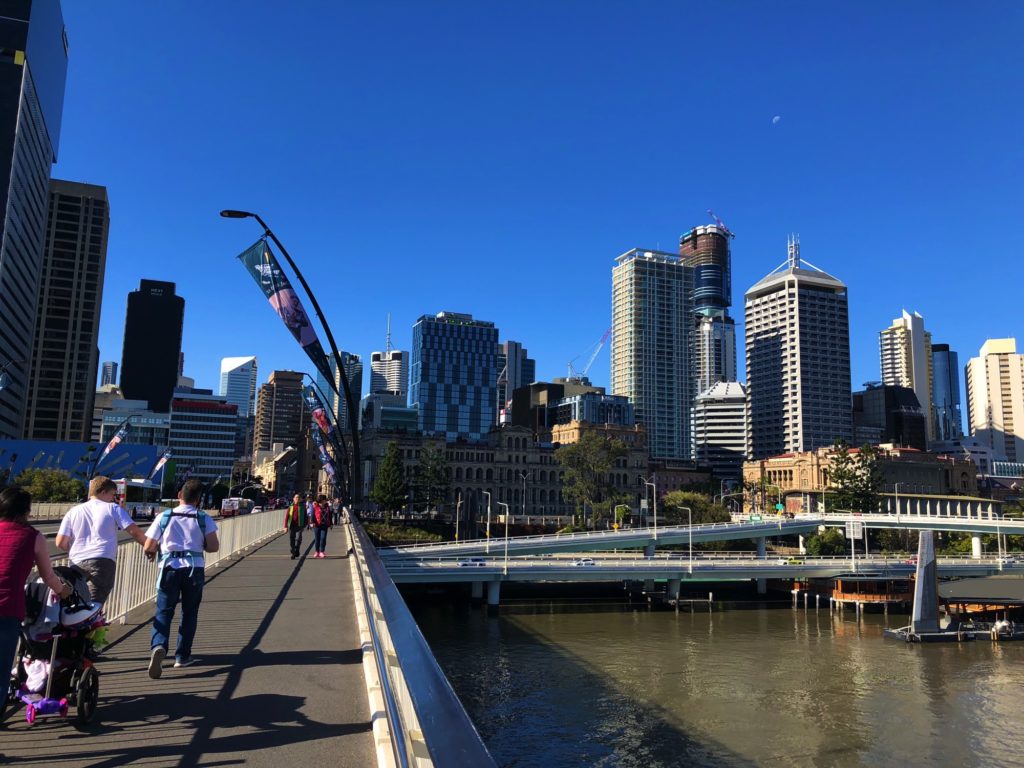 So far I have wandered South Bank, went on a wine tour to Tamborine Mountain, watched a Brisbane Broncos game at Suncorp Stadium, ate at my local Italian restaurant, enjoyed Friday night drinks with work and shopped at Westfield Chermside – Brisbane's largest shopping centre.
South Bank is an attraction in itself. As well as being an art and culture destination, it is a foodie heaven with food and beverage establishments for all tastebuds. It has a manmade beach – Streets Beach, a playground, rainforest, ferris wheel and more. The weekend we arrived the Regional Flavours festival was on with home grown food stalls from all over Queensland. We ate some of the local South Bank cuisine for lunch – me a poke bowl from Suki Restaurant and mum a pita from Zeus Street Greek.
We were back in South Bank for dinner at Ole Restaurant, a Spanish tapas restaurant, with some cousins. We ordered so many tasty dishes – seafood paella, a jamon board with meats, cheese, dip and olives, croquettes of the day, patatas bravas and crispy calamari.
On the Sunday my mum was here we joined The Vino Bus on a wine tour to Tamborine Mountain. Conveniently we were picked up from my apartment for the tour – they pick you up if you live within 10km of Brisbane city which is so convenient so you don't have to trek to and from the city especially after a long day of drinking. Tamborine Mountain was just over an hour's drive from Brisbane and was quite picturesque driving around the windy roads.
Our first stop was Mason Wines around 10am where we had at least eight tastings of their white and red wines. Next up was Witches Falls Cellar Door where we sat outside in the sunshine at park-like tables and enjoyed another handful of wine tastings and a cheese board.
It was then time to change it up at Tamborine Mountain Distillery where we tasted five different flavoured liqueurs. Some of the flavours included Musk, Choc Mint, Salty Caramel, Limoncello and Turkish Delight. By now, we were well and truly ready for lunch at The Heritage Restaurant where we enjoyed a few more tastings followed by a two-course lunch.
For our final stop of the day we had a few choices and as a group decided on Fortitude Brewery where there was also the Heritage Estate Wine Bar and cheese tasting. It was a really fun day and has become a mother daughter tradition whilst on holiday. I even made a few Brisbane girlfriends which was nice.
Since starting work and mum leaving, I've tried to get back into my regular routine and found a local Zumba class and salsa lessons. I've also decided to bypass the work gym until the weather gets real humid and have found a nice walk home from work.
On Saturday night I had my first night out in Brisbane with my wine tour friends. We went to CRU Bar & Cellar for wine and tapas, cocktails at Osbourne Hotel and a dance at Cloudland.
I'm super excited as I have already started planning weekend wanders along the east coast. I and am off to Melbourne this weekend, my second favourite Australian city, and can't wait to share my wanders once I'm back.
LWL xxx