During our two weeks in Vietnam, we experienced life with a local family in the Mekong Delta.
We took an overnight bag from Ho Chi Minh City and headed for our Mekong Delta homestay with a Vietnamese family. The drive was approximately two and a half hours and we stopped halfway for a refreshing Vietnamese cold coffee.
When we arrived at the dock, we met our guide for the night. We boarded a boat and sailed past the famous floating markets where local fisherman and farmers were selling seafood, fruit, vegetables and other supplies from their boats in the middle of the Mekong River.
Once we passed the floating markets we were taken to a local market where the employees were making caramel lollies and rice paper. I had a turn at making a rice paper sheet and we got to taste snake wine and some interesting Vietnamese snacks.
We boarded the boat again and reached smaller canal like waterways. We split into threes and got onto smaller row boats. It was very peaceful but quite hot at the same time as we weren't getting the same air flow as we were on the bigger boat.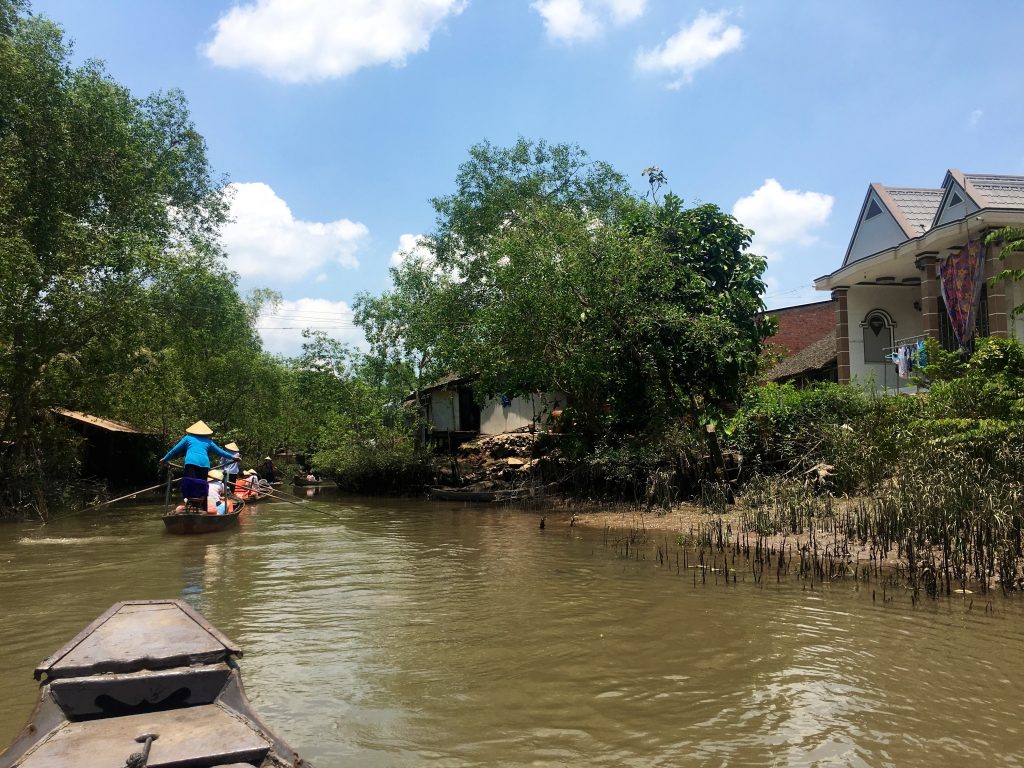 After doing a loop, we boarded the bigger boat again and were taken to a restaurant in the Mekong area where we stayed until the tides changed – the tides lower during the middle of the day.
Here we ate a mass of food including fresh rice paper rolls with fish from an interesting looking stand up fish, rice, Asian greens in a soup broth, chicken and fruit. The food was very enjoyable but we had to relax here in the heat for over an hour while the tides came back which wasn't very enjoyable. Before boarding the boat again we walked through the gardens of the restaurant.
We were now onto our final destination – Bay Thoi Homestay. The property was beautiful with a massive garden area. My partner and I were lucky enough to score a double room, which had its own bathroom. There was no air conditioning for the night with only a wall and floor fan in the room.
Late afternoon we went for a bike ride around the village and had some tea and fruit at a local garden. We rode some dirt tracks and main road which was a lot of fun.
Before dinner the family taught us how to make fried Vietnamese spring rolls. It's so interesting watching different cultures – the lady of the house was sitting on the table as she showed us and helped us make the spring rolls.
Then it was time to enjoy dinner. Again we had make your own fresh fish spring rolls with lettuce and mint (it's becoming a reoccurring theme), our fried spring rolls, fried fish, chicken, prawns, green vegetables and rice followed by fruit for dessert.
After dinner we played card games with the group and then tried to get some sleep. It was a very restless night's sleep. The air was hot and sticky and we had a net over our bed to protect us from mosquitoes so the wall and floor fans weren't getting through well enough.
The next morning we enjoyed baguettes and spreads with Vietnamese drip coffee before heading back to the boat. On our way to the Vinh Long port we stopped at another local property to listen to Vietnamese music accompanied by some refreshing pineapple, watermelon and tea. And then it was onto a pottery making factory, which was beyond hot.
Back on the boat, we had a fresh coconut waiting for us… winning!
On the way back to Ho Chi Minh City we stopped to visit the Vinh Trang Pagoda – a buddhist temple – and the happy buddha which was oh so happy and lovely to see. The gardens of the pagoda were bright with flowers and the architecture was French / Vietnamese influenced. It was beautiful.
Before arriving back in Ho Chi Minh City we had another set menu lunch at the Mekong Rest Stop Restaurant alongside every other tour company. The food was pretty good and a little unique to what we had eaten so far on the trip. There was shrimp and pork pancake, chicken soup, sticky rice, fried rice, pork skewers, sweet fish with fruit and caramelised banana for dessert. The gardens of the restaurant were beautifully manicured.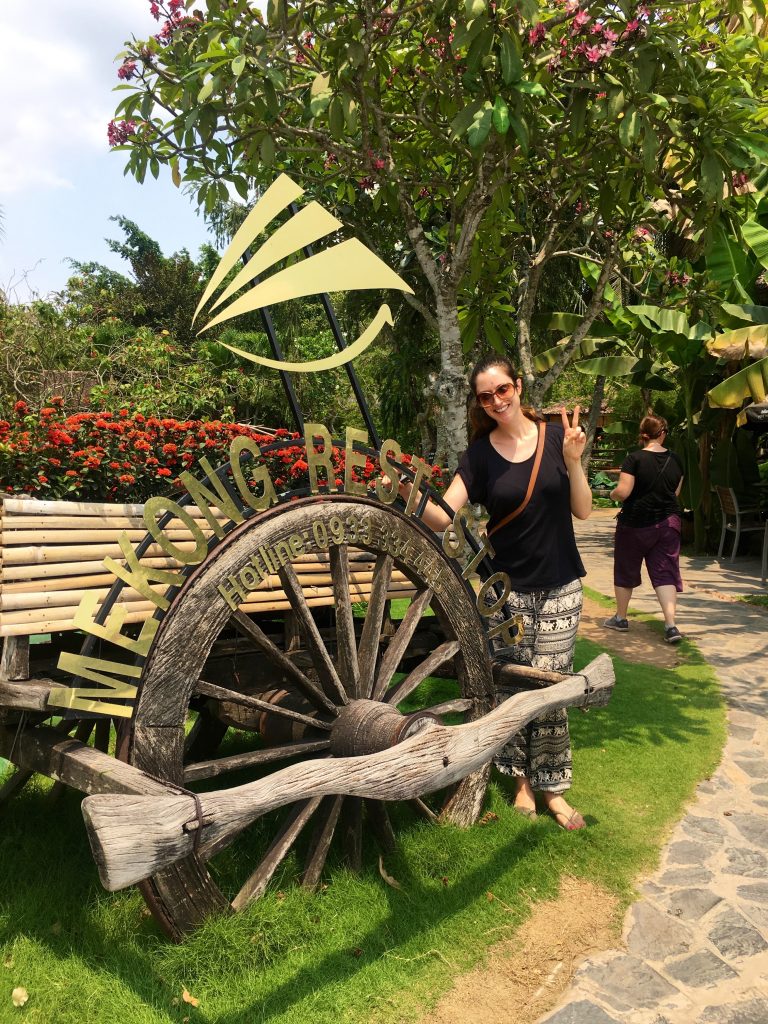 I really enjoyed our stay in the Mekong Delta despite the heat. It was so nice staying with a local family and seeing how they live. What really stuck with me was how family orientated the Vietnamese culture is.
Next week I'm taking you to the beach town of Nha Trang.
LWL xxx