In the words of AC/DC 'it's a long way to the top if you wanna rock'n'roll', and it was on those first couple of days in Koh Samui that I learnt both the physical and metaphorical meaning of that well-used lyric.
I'll be honest; our 'kind of spontaneous' family trip did not get off to a good start, thanks to being robbed on our first day. Bare with me though as things did get better and the trip turned into a fabulous one.
Knowing we were arriving in Koh Samui late at night and with small children in tow, we had pre-booked an overnight stay at the Citin Urbana, a reasonably priced hotel near the airport. The plan being to leave after breakfast the following morning to head to our villa which was a 20-minute drive out of the main town.
It was a nice hotel for the price, spacious and clean, however during the 30 minutes that we left our room to have breakfast we returned to find half our currency and an iPad missing from our bags.
I don't want to dwell too much on this point, except to remind travellers to be vigilant with your belongings. If there is a lockable safe available, use it or take your valuables with you. We reported the theft to the Thai authorities but in all honesty it was a futile mission.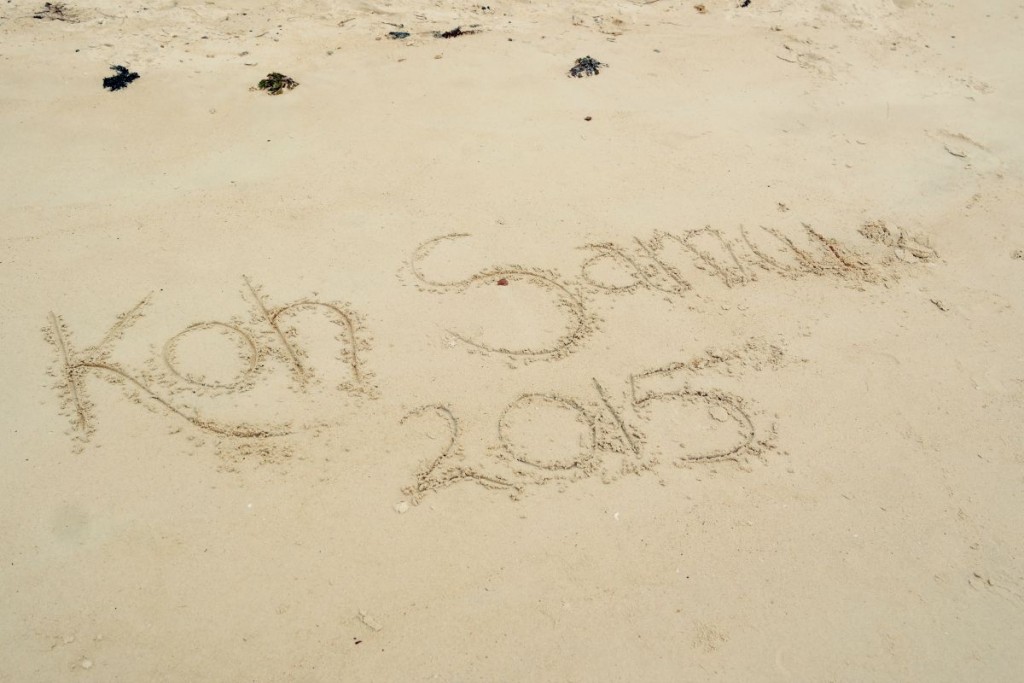 Putting the negative experience behind us, we headed to our villa in the gated community of Santithani, located high in the hills of the eastern side of the island.
Be warned, you will need a 4WD to get up the steep roads that lead to the villas. This was a lesson we learnt the hard way, when our taxi driver refused to take us any further than the first incline, leaving us to walk up the steepest part in the midday heat with all our suitcases and hand luggage. I notice he didn't reduce his fee, even though he technically didn't fulfill his end of the deal.
I can laugh about it now, picturing us, my husband and I, sweaty and grumpy, plotting revenge on the hotel staff for robbing us and now the lazy taxi driver who abandoned us in the middle of nowhere to find our own way to our accommodation, which we only had the vaguest of instructions to go by. In stark contrast our wide-eyed children took it all in their stride, loving the whole adventure.
But the hike to the top of the hill was worth every bead of perspiration. All our troubles melted away when we were inside the coolness of the villa. And when I say cool, I mean in both senses of the word!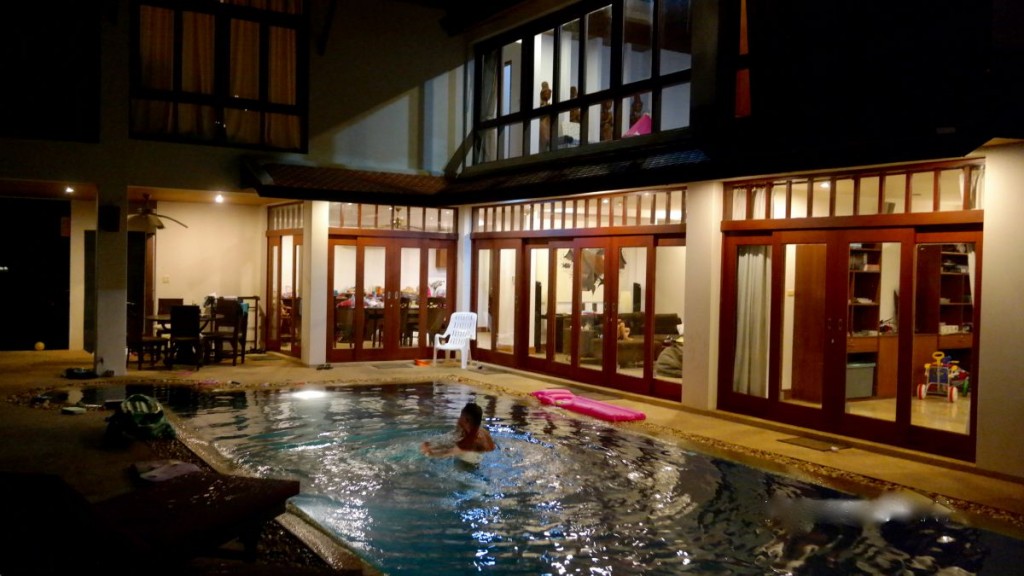 This trip came about because of a conversation I had in a pub with friends when I was in the UK earlier in the year. Our friends had already booked the three-bedroom villa via AIRBNB and organised to meet up with other friends from Bangkok. Since there was a spare room in the villa, they encouraged us to come along and fill the vacant room. All we needed were airfares. Who passes up an offer like that?
Our house manager Tor, lead us through the house, giving us instructions on how everything worked and leaving us with her phone number should we wish to arrange anything from a chef to cook for us, to massages and snorkelling tours.
In all honesty we couldn't wait for her to go, so we could drop our composure and jump up and down like excited children screaming 'OMG OMG…how awesome is this place!' We stood by the top floor windows looking across a sea of palm trees with the ocean beyond. It was a pad fit for the rich and famous. And I don't say that lightly, apparently the Beckhams have a holiday home in the same village.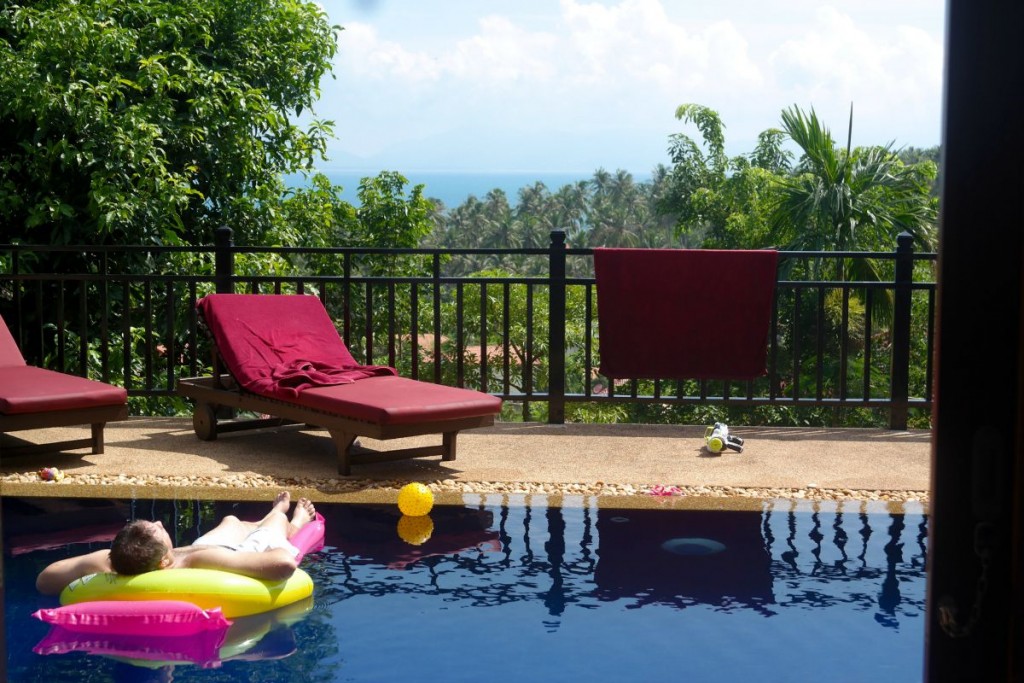 The villa or rather mini-mansion, had everything you could possibly need. There was wifi, cable TV, international adaptors, split system air conditioners (in every room), bottled water, a fully equipped kitchen, fresh fruit, books, DVDs and a comprehensive house guide with menus from local restaurants that will deliver to the door.
I want to talk more about the island itself but I feel I need to say a couple more things about the villa before I leave that subject behind. If you happen to be travelling with babies or toddlers, I can't recommend this accommodation highly enough. It is absolutely set up for families. They have everything from cots, car seats and a baby monitor to change facilities and toys. Loads of them!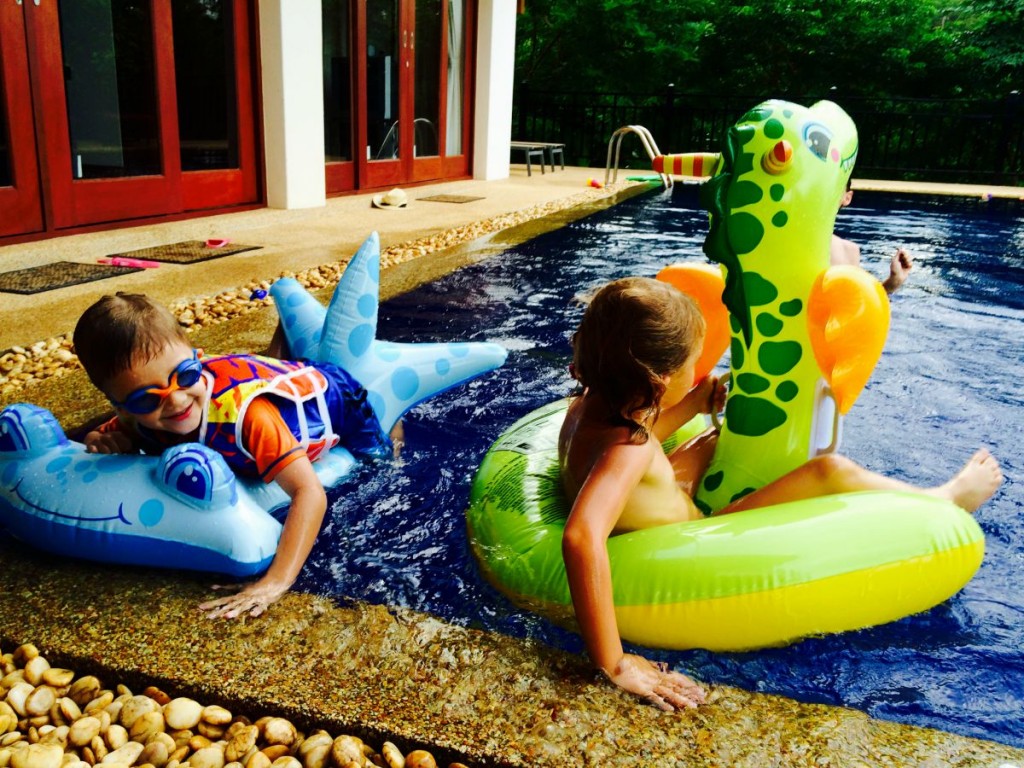 The only non-child friendly things are the stairs and an unfenced pool but savvy parents can manage all these things.
By the afternoon of that first day all our friends arrived, along with our hire car and the holiday really began. Having the 7-seater SUV meant we had the freedom of venturing out daily to discover the island. Driving in Koh Samui is quite safe and without the chaos of busier tourist cities like Phuket or Padang.
It is a relaxed place and the destination of choice for many honeymooners. With its palm-lined beaches, tepid water, seaside bars and chilled out attitude, it is a world away from the hustle and bustle of other popular Thailand hot spots.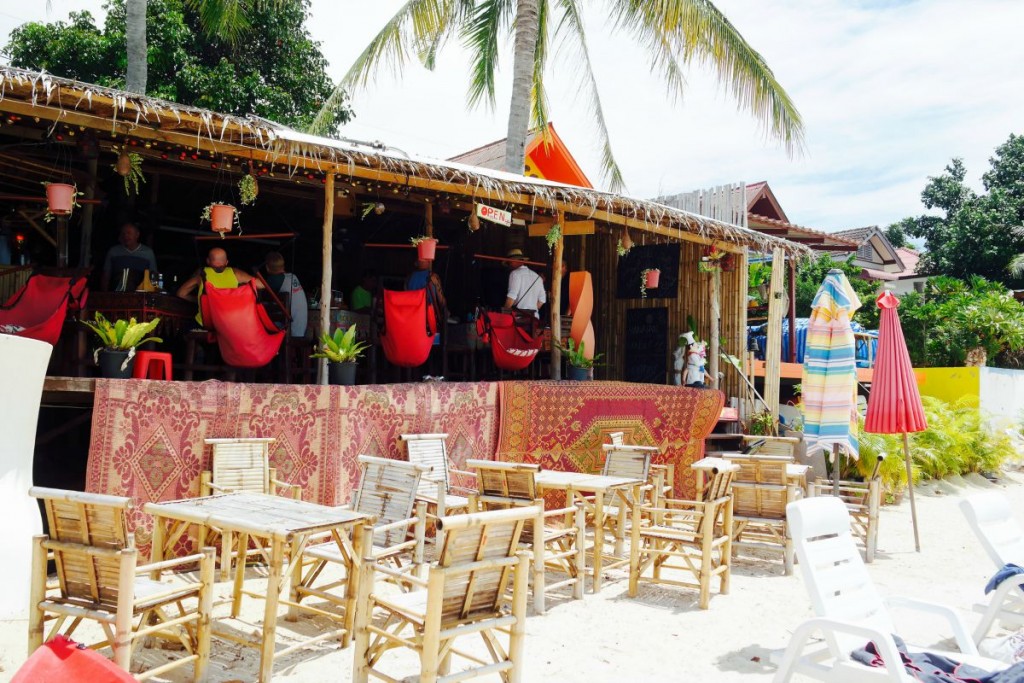 I did have to laugh when my girlfriend made the statement on our first foray out: 'Gosh, it's been a few years since I've been here, I thought they'd have finished it by now!' And she's right, like so many South East Asian destinations, there always seems to be scaffolding and formwork for footpaths, road works and building construction as part of the landscape. Nothing ever seems to be quite finished.
But as visitors we seem to turn a blind eye to it and head off to the beachside bars discussing the sub-standard safety practices 'that would never happen in our countries', while buying a cheap round of local beers and loving the fact that we can step directly from the bar to the beach, with no fear of being fined for drinking in a public place or for squeezing more people than seatbelts into a vehicle.
As travellers we are so quick to criticise the safety practices of these countries and yet, it's the freedom of their carefree attitudes that keep us coming back.
So if you find yourself in Koh Samui, here are the places I recommend you visit. Bare in mind we were travelling with young children (ranging from ages three to five), so we didn't do any full, half, blue or any other type of moon parties, but we did enjoy great food, markets and the beautiful beaches.
Relax@Samui
Don't be put off by the name, as this beachside restaurant/bar with individual gazebos, hammocks and swings is awesome. We went back to this place four times because we loved it so much. It's the sort of place where you can spend the entire day, and it caters for kids. With a diverse menu (which included fresh seafood), beach access and a children's sandpit, this place gets a big thumbs up.
Fisherman's Wharf Markets
The night markets at Fisherman's Wharf are a must. They are alive with atmosphere and people. The waft of spices, fruit and seafood are enough to give anyone an appetite and you will be spoilt for choice with restaurants and bars in between the many stalls selling clothes, shoes, soaps, souvenirs and street food.
The Jungle Club
Initially we were reluctant to go to this bar, as we had heard that it wasn't particularly kid-friendly, due to its bar decking jutting out across the high cliff with no barriers to prevent falling off the edge. However we were curious, so we decided to go there for a cocktail. While they were right about the barriers, it wasn't the 'freak-out' factor we'd been lead to believe. Unfortunately the flies were more of a deterrent than the prospect of falling off the decking, but still the view is amazing and it was worth a look.
Thursday Night Maenam Road Markets
These markets are not as busy as Fisherman's Wharf Markets but they have all the elements of its bigger counterpart on a smaller scale. There is plenty of traditional and western food and restaurants both on the streets and along the beach. Note that the markets only operate on a Thursday evening but in the daytime the bars, restaurants and massage parlours are still open for business.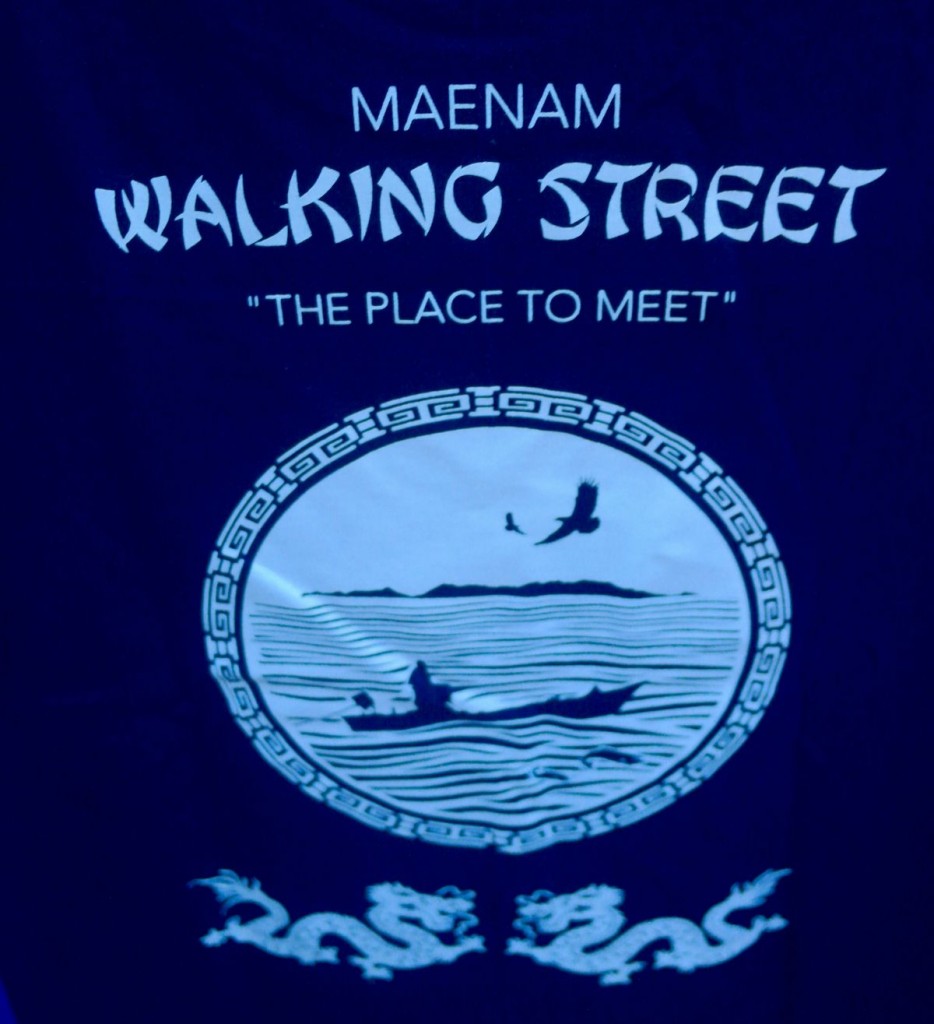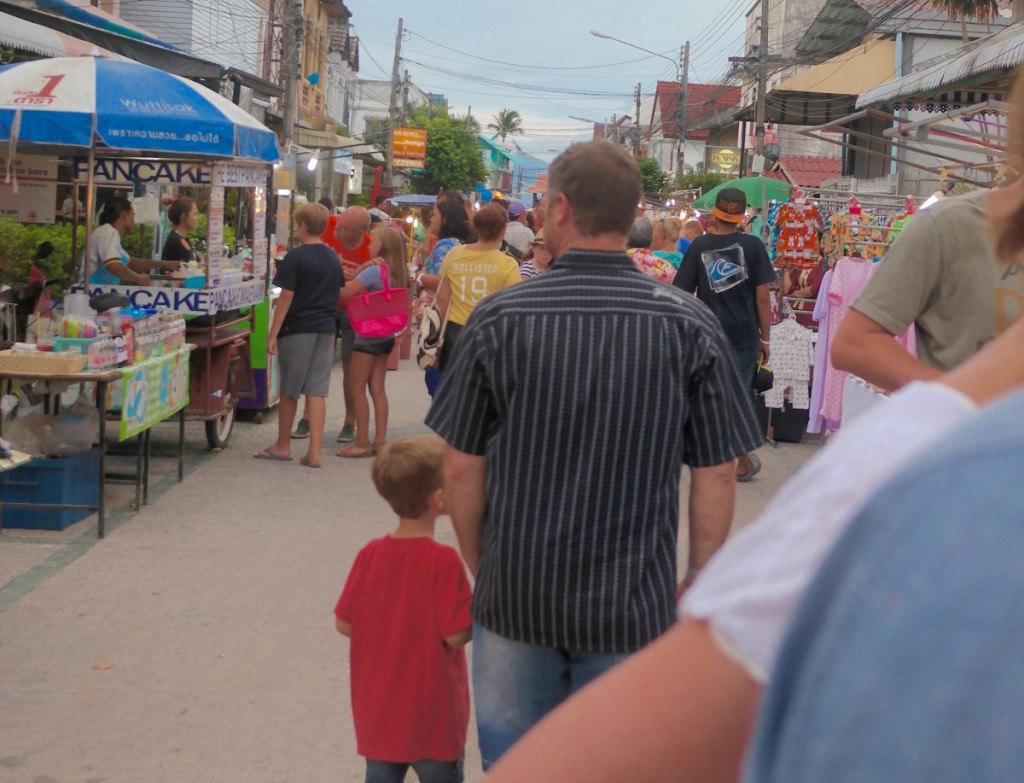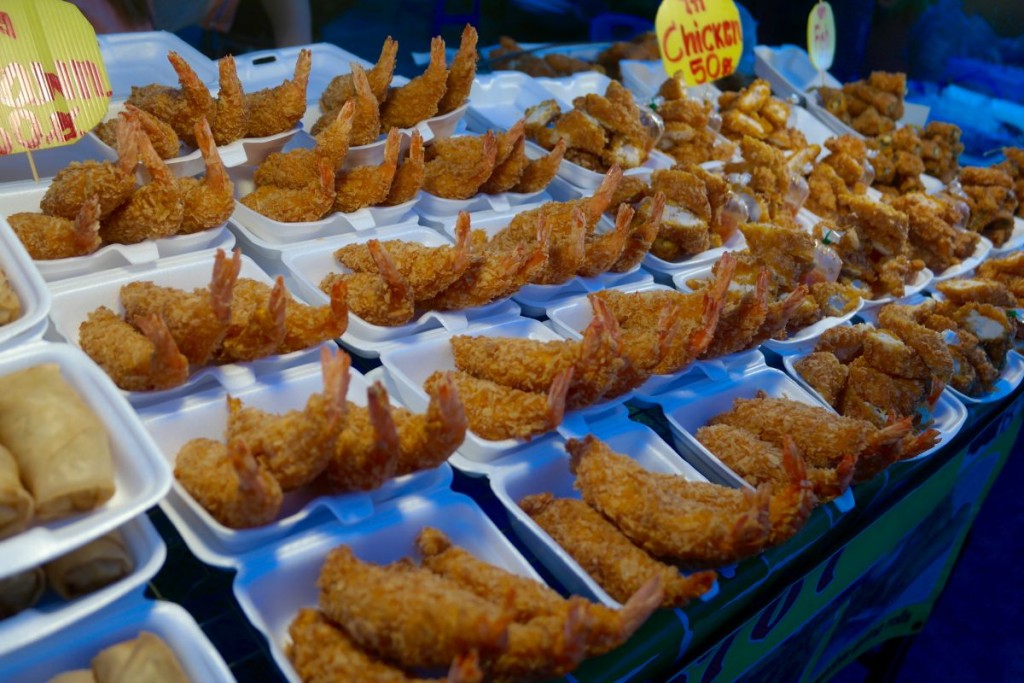 If this blog post has inspired you to head to Koh Samui for your next or a future holiday, then I hope you will try some of the great places we did as well as discover many new ones.
If you happen to have a wait between checking out of your accommodation and your flight home, the Koh Samui International Airport has many restaurants and shops to browse plus in the departure lounge they offer free refreshments, a children's cubby area and internet to while away the hours.
My husband is keen to go back as we ran out of time to do the Marine Park and some of the other activities that were rated highly on Trip Advisor. Geez, it'll be a real strain to go back… especially if I have to luxuriate myself in that rock star villa again and have daily massages!!! When are we going???
Happy travelling all.
Tabetha
Next time I'm heading not so far out of town. I'm off on a road trip to New Norcia for the town's inaugural Writers Festival, so be prepared for monks, monasteries and manuscripts.