Easter break couldn't have come at a more perfect time and a trip to Augusta in Australia's South West was just what Rita and I needed.
Leaving mid morning on Good Friday and the first day of school holidays was not the best idea. We were stuck in Perth traffic for almost two hours. We practically stopped in someone's front yard for our famous tuna sandwiches as we were both getting hangry.
We stopped at Boranup Forest Viewpoint to witness the beautiful karri forest winding along Caves Road. From the car park, there is a short path you can take to a viewpoint with a nice outlook across the street and down the street.
We arrived into Augusta and went for a walk down to the local jetty along the Blackwood River. It was a cold start to the holiday but a nice change from the heat we had been experiencing in Perth.
We drove the coast to Cape Leeuwin Lighthouse for sunset, approximately 10 minutes drive from Augusta. As the lighthouse was closed, we parked at Water Wheels and walked up and over the rocks to get a vantage point of the lighthouse. Cape Leeuwin has a rugged coastline and is where the Indian and Southern Oceans meet.
We enjoyed fish and chips from Blue Ocean in our room and were both asleep by 8pm. Needless to say we were both exhausted after the long day.
We spent Saturday in Hamelin Bay, starting with a walk along the bay to see the resident sting rays. We arrived to Hamelin Bay, 15 minutes drive from Augusta, around 8am and saw a couple of families of sting rays along the bay. We saw some individual ones also in the afternoon around 2pm but there were definitely more early in the morning and less crowds to enjoy them to yourself.
We did the 13km return hike to Cosy Corner along the coast, part of the Cape to Cape track. It took us through inland forest, over rocks and blowholes and gave us beautiful coastline views. The hike starts near the boat ramp car park of Hamelin Bay.
We relaxed back at Hamelin Bay after the hike with our tuna sandwiches for lunch. I started reading Zoe Foster Blake's book Love, which Rita had with her, to see if there were any insights I'm missing from the dating scene. The advice was very simple.
We watched the footy and ate dinner at the Augusta Hotel. It was very busy, being Easter weekend and an Eagles match, and took us until half time to find a table. Once we were seated, chicken parmigiana and steak were on the menu.
On Easter Sunday we went for a nice morning walk along the river to the river mouth. It was a bit of a rainy morning but we were determined to continue as it is such a beautiful walk with hilly terrain on the opposite side and plenty of bird life in the river.
We bumped into some of Rita's connections along the way who recommended a local garage coffee shop in the back streets. So we made our way there and enjoyed the very hospitable service, home made hot cross buns and good coffee. We felt very welcomed.
That afternoon we spent wining and dining in Margaret River. We started with a pre-booked wine tasting at Si Vintners' cellar door which was quite comprehensive and included 10+ tastings. Needless to say we both walked out with bottles.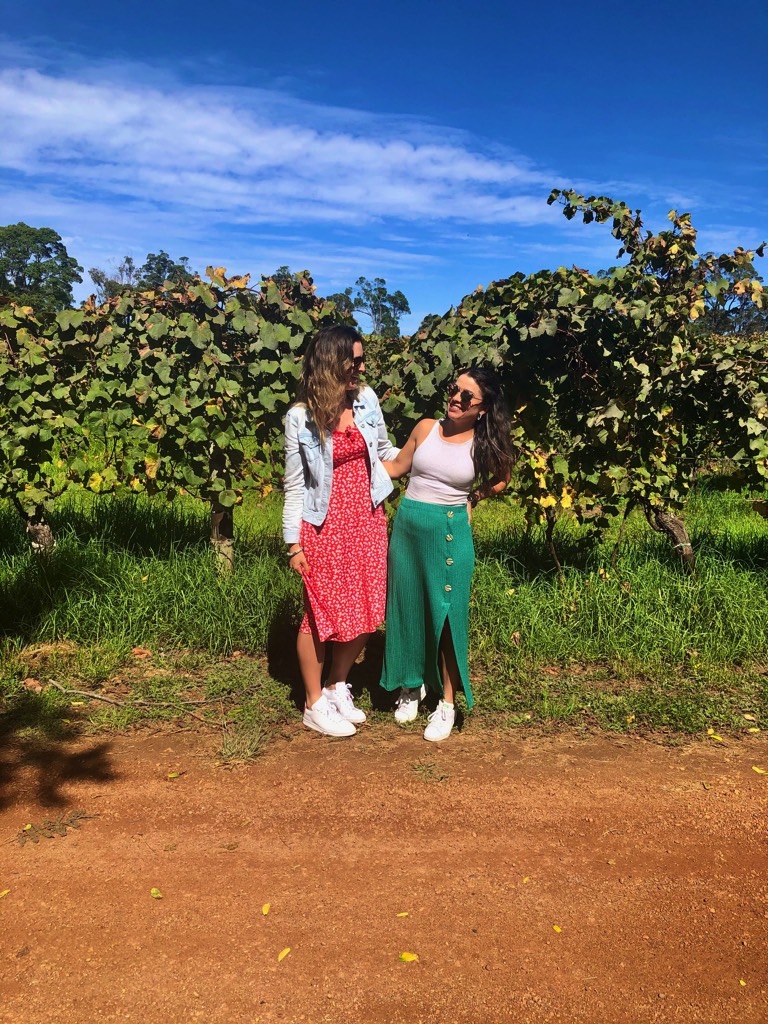 It was then lunch time at Colonial Brewing Co. We shared pizza, chicken wings and a beetroot salad. It was a really nice spot for lunch in the afternoon sun. They also have a golf range where you can hit balls into the lake.
We stopped into South by South West and finished the day with a couple of wine tastings at LS Merchants. It was a nice spot to pull up a picnic and wander the vineyards.
We enjoyed a sunset wine and cheese board on our accommodation balcony that evening.
On our final morning we went for a nice walk to the river mouth again and it was a sunny morning which made it nicer than the day before.
After checking out we drove to Yallingup and grabbed a coffee from Commonage Coffee. It was another nice spot to enjoy a picnic on the grass or the outdoor seating.
We then spent the rest of the day at the gorgeous Bunker Bay with our delicious tuna sandwiches for lunch. We swam, read and walked along the bay. We didn't want to leave but had to call it at 3pm.
We had a quick stop into Eagle Bay Brewery. Then the drive home was thankfully super smooth with no traffic compared to the Friday.
It was the perfect time for a break away from Perth and the perfect amount of exploring, wellness, wining, dining and downtime.
Now we are preparing for our trip to Karijini and Exmouth this month which is super exciting.
LWL xxx