In June I was lucky enough to wander Australia's Coral Coast as far as Monkey Mia in between my one day work week.
Travelling with my road trip buddy Rita again, we were well equipped with enough food and snacks for the six day trip and we borrowed my dad's Jeep this time for greater safety on the long, lonely country roads.
We set off and stopped at Green Head, approximately two and half hours from Perth, for a walk around Dynamite Bay's Three Bays Walkway. It was quite picturesque and reminded me a bit of the landscape of North Beach coast.
Another two and a half hours and we were in the fishing town of Horrocks where we stopped for a picnic lunch. Whilst a nice coastal town, there's not much to see and it's a little out of the way for a stop so we probably wouldn't stop again. We were unlucky to have a rock hit our windscreen too… sorry Dad!
After lunch we stopped into Port Gregory, 25 minutes further north, to see the Hutt Lagoon Pink Lake. We decided to ignore the road sign and follow Google Maps and ended up half way down the back of the lagoon with no where to stop and nothing to see so we turned back to where the sign was promoting the lagoon. We soon remembered not to rely on Google for everything.
When we arrived the area was deserted, so again like our Great Southern trip it was a really nice time to travel with nothing too busy and no trouble finding parking spots. We walked into the salty lake and took some photos. The ground was a little unsteady at times and I nearly fell in mid pose.
We then continued onto Kalbarri, 30 minutes drive away, where we were staying for two nights and had a walk around the gorgeous Kalbarri National Park coastal cliffs on our way into town. These sandstone cliffs sit up to 100m above sea level and offer picturesque views and the opportunity to spot whales during whale watching season. We wandered Shellhouse Grandstand, Natural Bridge, Eagle Gorge and Pot Alley.
That evening we went to Red Bluff Beach and enjoyed a sunset vino before dining in on curries from Buddha Bites.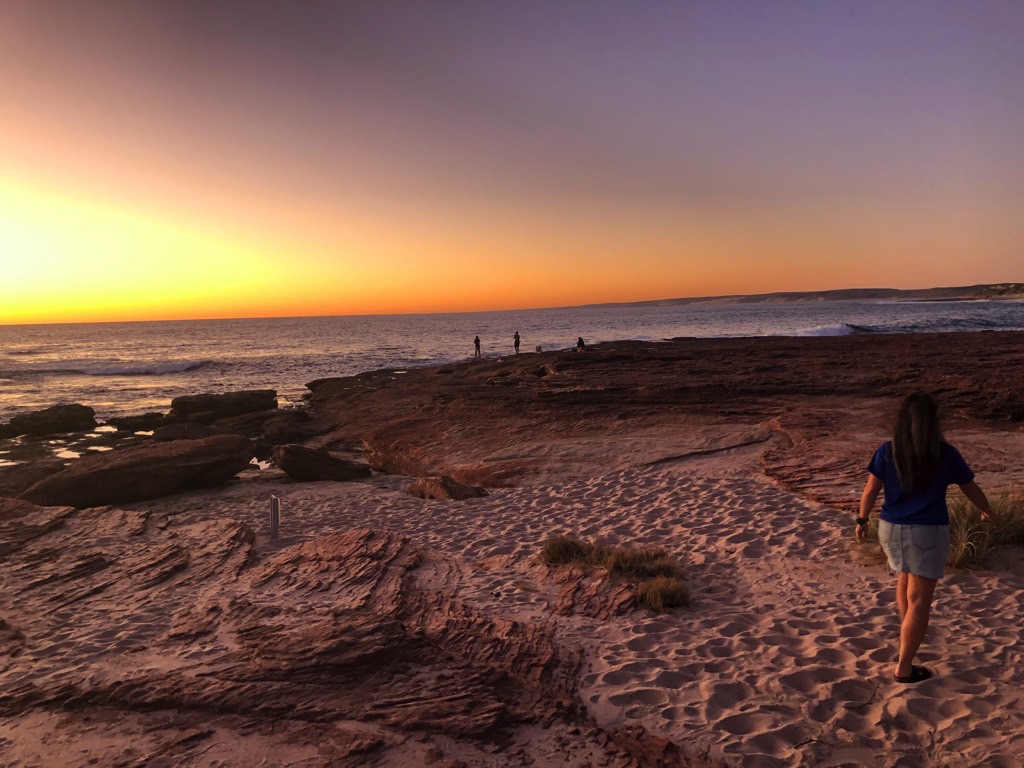 Our full day in Kalbarri started with great coffee from The Gorges Cafe. We embarked on our main active day of the trip to Kalbarri National Park where we enjoyed Nature's Window, a 1km return walk from the carpark, to ourselves for a good 15 minutes.
We then set off on the Loop Walk 8km trail around the national park, gorges and Murchison River. The first half was so beautiful and scenic making our way down and around the edges of the gorge. The second half was for the majority of the time walking through soft sand. The trail took us just over three hours.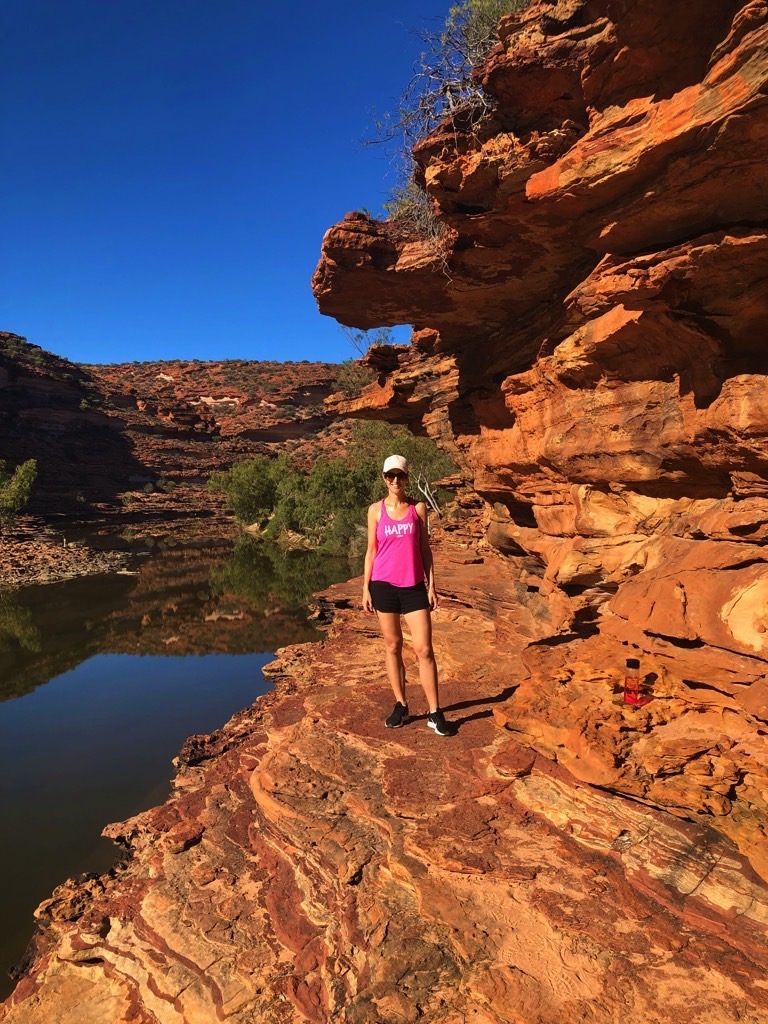 After the tiresome hike, we visited Z Bend Lookout along a 1.2km return trail which was absolutely gorgeous and would have been a lovely hike but we could not back it up. Who knew this existed in Western Australia! We then decided that was enough for us and didn't make it to Hawks Head… next time.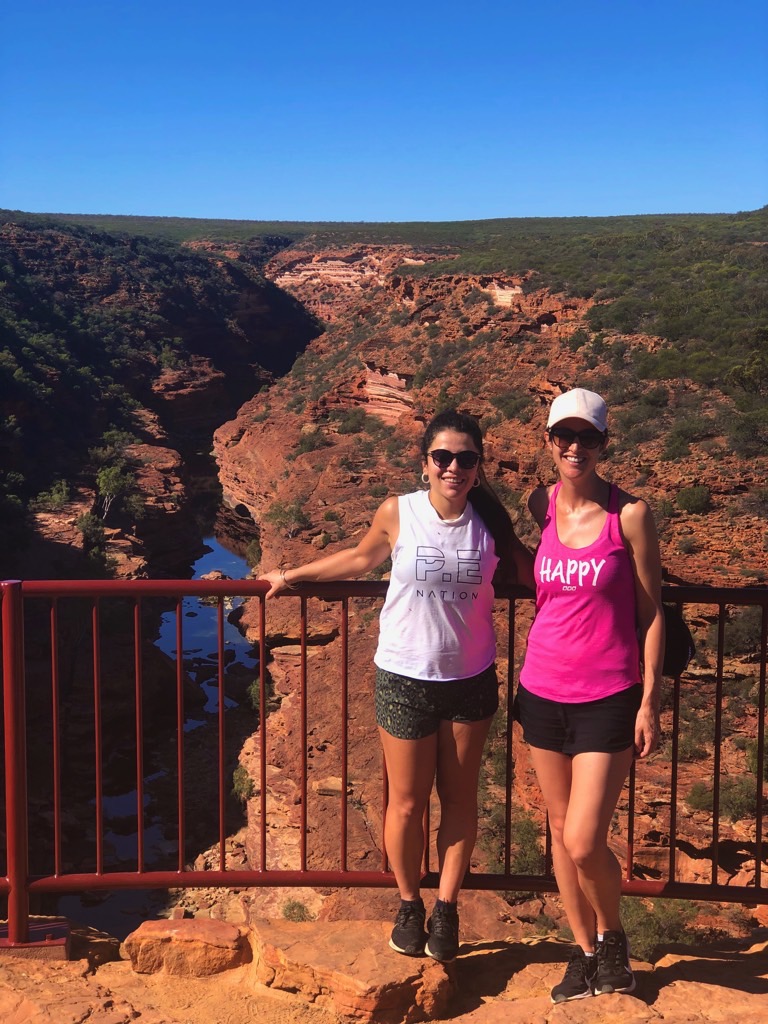 After a quick lunch stop we tried to have a snorkel at Blue Holes Beach but it wasn't the best conditions for snorkelling. So we enjoyed some downtime on the beach watching all the crabs roam around.
Another night in Kalbarri called for another sunset vino. We again went to Red Bluff but this time walked up to the lookout to soak it in from a different angle. Then dinner at The Tavern.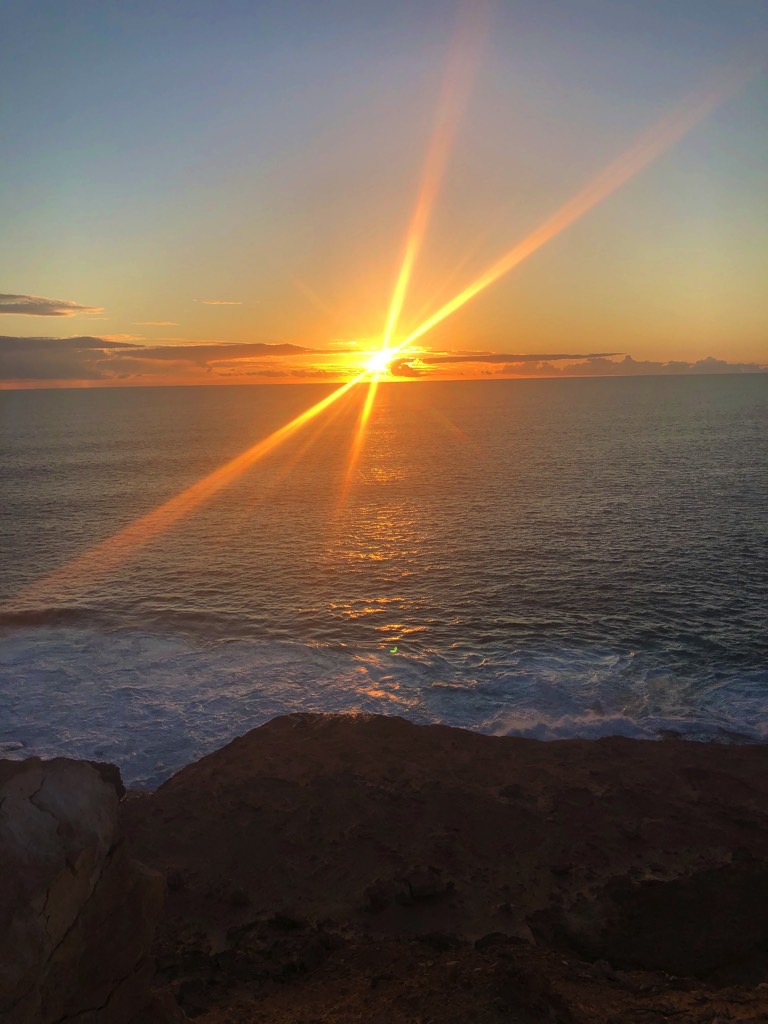 We planned the trip very well as the next day was torrential rain, both in Kalbarri and for the whole drive to Shark Bay. Lucky it was a long straight stretch of road so it was fairly safe to drive through.
Once we reached the turn off onto Shark Bay Road, we had a few stops in the Shark Bay region before settling in at Monkey Mia for two nights. The first stop, 2.5 hours from Kalbarri, was Hamelin Pool Stromatolites, some of the oldest living fossils on earth. We were a little underwhelmed but this could have definitely been a result of the wet and gloomy weather. Still worth a look if you're in the area.
We had lunch and finally enjoyed some sunshine at Shell Beach, made up of tiny white shells which you aren't suppose to remove. We didn't find it warm enough for a swim and also the water was a little murky during our visit so we opted out.
We continued onto Little Lagoon just outside of Denham town which had beautifully turquoise water. We enjoyed a leisurely walk half way down one side of the lagoon.
Most of Shark Bay is Francois Peron National Park offering amazing contrasts between red cliffs and the blue waters. You need a four-wheel drive for most of the national park tracks except the first 7km of the main national park entry which takes you to the history centre. We didn't explore the history centre… I think it was more let's drive this section as it's the only part we can… but we enjoyed the kangaroos along the way.
We stayed at the RAC Monkey Mia Dolphin Resort for a glorious two nights. There were plenty of dolphin sightings, beach walks, lazing on the beach, tennis and sunset vino. The resort was equipped with everything you would need for a couple of nights – The Boughshed Restaurant, Monkey Bar, a general store, camp kitchens, pools and sporting equipment.
I didn't realise the dolphins would frequent the bay so often throughout the day, as it's mainly promoted as a morning attraction when there is a feeding experience for tourists. My advice is to avoid that and enjoy the dolphins as they come around various sections of the bay throughout the day. It's much more natural and memorable. I'm not sure if the dolphins visited more as they missed visitors but they were always around, seeking attention and putting on shows. Such a special place to have stayed.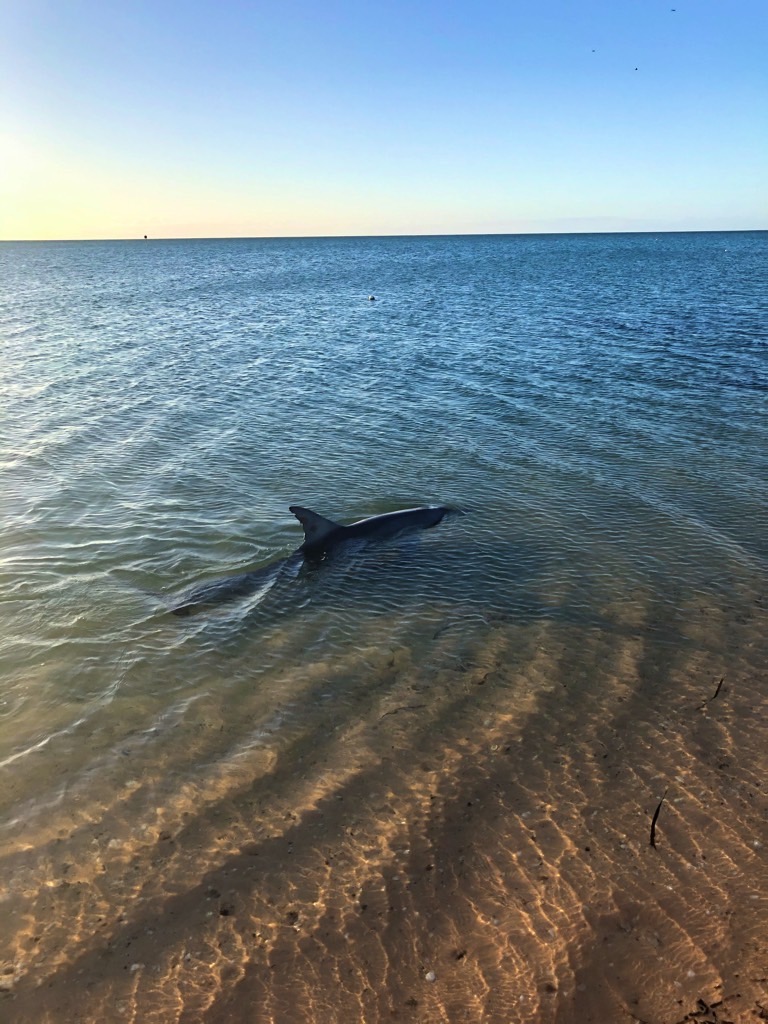 We spent our last night of the five night journey in Geraldton, 4.5 hours drive from Monkey Mia, stopping at Billabong Roadhouse and Northampton, one of the oldest Western Australian towns, for lunch on the way. We wanted to also have scones at Oakabella Homestead but it hadn't reopened post-Covid yet.
In Geraldton we visited the HMAS Sydney Memorial, took a beach walk to Point Moore Lighthouse which was set back from the beach, and explored Geraldton Foreshore. I wouldn't choose to stop here on the next trip, though I might think differently if I had children.
We went to The Geraldton Hotel for dinner and to watch the first West Coast Eagles footy game post-Covid. Following we enjoyed a cocktail and dessert at The Provincial which was very classy and definitely more our scene.
On the way back to Perth we stopped into Port Denison, 1.5 hours from Geraldton. It was a nice coastal town with a bay and open water beaches. We enjoyed a walk along the foreshore.
We drove another 1.5 hours and had a quick lunch and drive through of Jurien Bay. Then it was home time.
I have been on another wander since; a long weekend in Margaret River with mum which I will share soon.
Until then….
LWL xxx