My much anticipated trip to Karijini and Exmouth finally happened in May and it was unbelievable how magical Karijini was.
We were blown away by the natural beauty of the Pilbara landscape and breathtaking gorges Rita and I engrossed ourselves in for three days.
We drove the 1400km to Karijini via a 12 hour drive to Newman in my Dad's Jeep we called Jenny. It was surprising how the drive just passed with good snacks, good chats, the occasional wildlife interruption and some stops – Wubin, Mount Magnet, Meekatharra, Kumarina – along the way. It wasn't without our first car trouble though, about four hours into the drive, our car had a slight gear problem but a quick turn off and on sorted that out.
After a night at the Newman Hotel, we went to Radio Hill Lookout to get a 360 degree view over the mining town.
From there it was another two hour drive to Karijini National Park. I was surprised by the beautiful mountainous terrain and windy roads that lead us there.
We stopped into the Visitor Centre to get our bearings and then found our campsite in the Cockatoo Loop of Dales Campground. We chose our site as the camp host was based nearby… just in case we ran into trouble.
We set up our very simple campsite consisting of a swag, trestle table and camp chairs. It definitely got lost in the campsite when our vehicle wasn't parked up. It was such a contrast to the bells and whistles of other camp set ups. But we enjoyed its simplicity which was mainly borrowed from our amazing friends and family. The whole experience has gotten us excited about getting our own gear and doing more trips!
After lunch we walked from our site to Dales Gorge via a track to Fortescue Falls car park, approximately 15 minute walk away.
We walked down the 286 stairs to Fortescue Falls where we spent a bit of time swimming and basking in the sun. The scenery around us while we swam in the natural rock pool was breathtaking. We were mesmerised.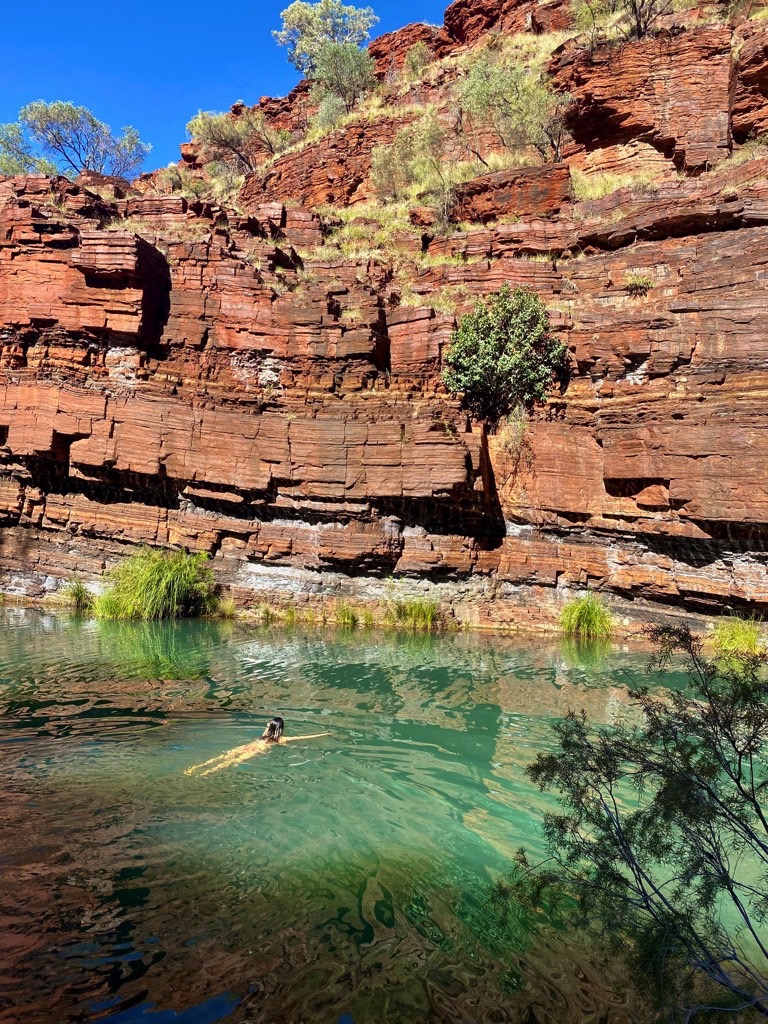 After enough relaxing, we embarked on the 2km Golden Rim hike along the base of the gorge, up to the top and back around to Dales Lookout. Along the trail there were rocks and puddles to manoeuvre. We even saw a black snake which freaked us out as there was a snake bite in the area a few days prior.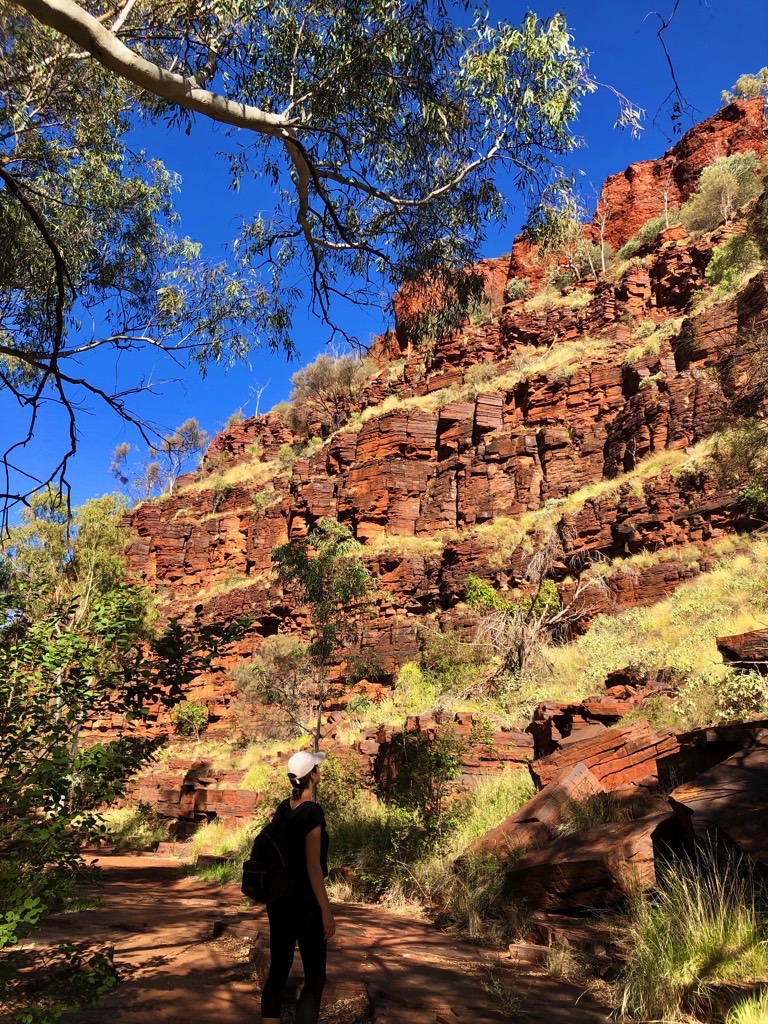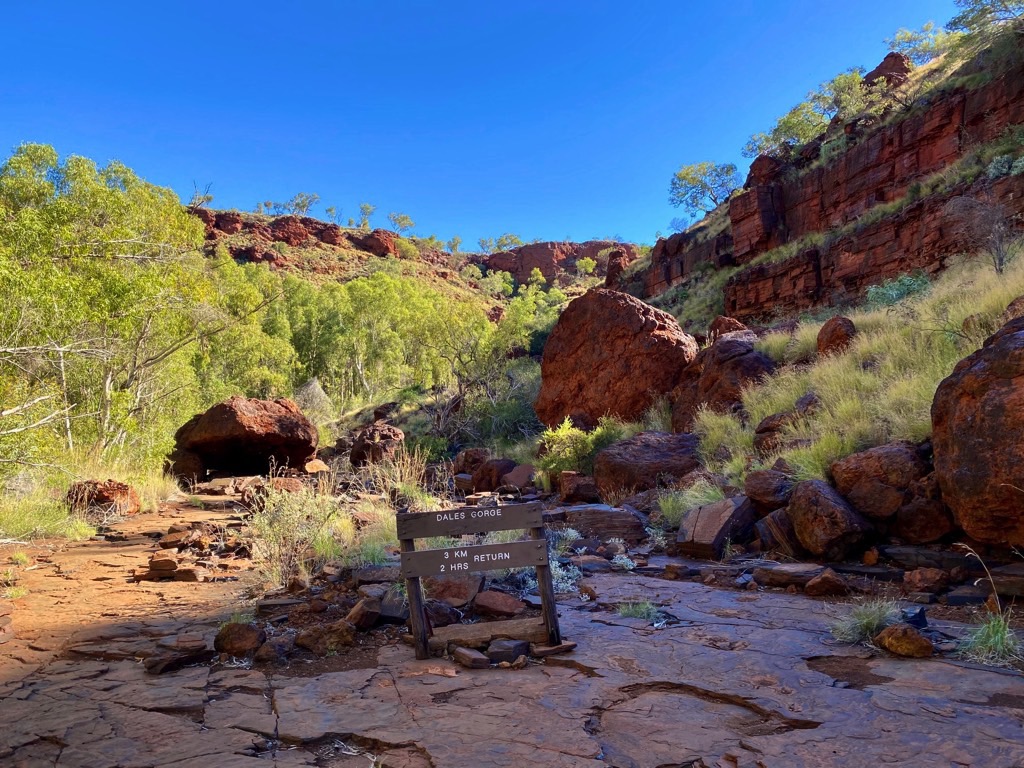 Once back up the top of the gorge, we checked out Three Ways Lookout which looked across to Circular Pool and Fortescue Falls. We walked to Circular Pool Lookout (the pool was closed for maintenance) and walked back along the Golden Rim, somehow losing our way. We backtracked a little but still couldn't figure out how we ended up off-course so we headed for the direction of the road and found our way back to the Fortescue Falls car park.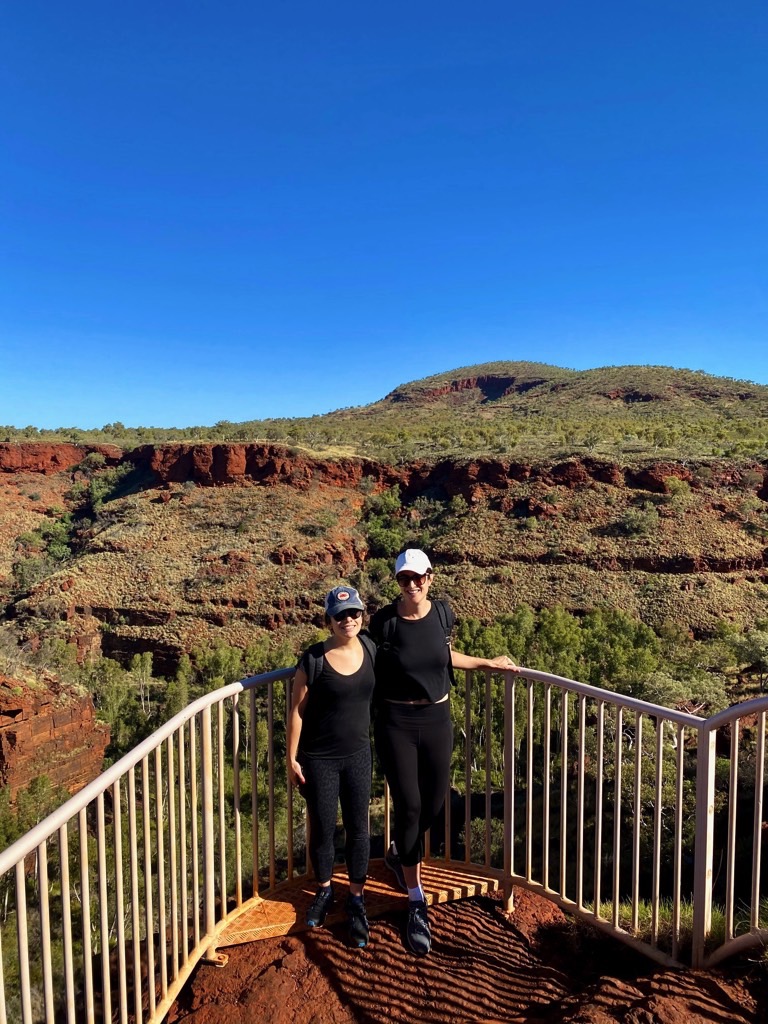 We headed back down the stairs passed Fortescue Falls along the trail to Fern Pool for our last swim of the day. It was a large sized pool with natural spring water and two waterfalls at the end. It was refreshing though a little cold as the sun had moved. It's actually funny cause we almost missed discovering this pool, only venturing along the path after seeing other visitors take it. It was then back up the 286 steps and a walk back to our campsite where we settled in for the evening.
We got quite used to our portable stovetop over the three nights. On tonight's menu was pasta alla Rita complemented by our smooth drinking bottle of Ciao Bella Sangiovese wine.
Our nights were very simple and following dinner consisted of playing Italian cards under the stars before trying not to fall asleep to a movie in the swag.
We woke up to the sounds of dingoes howling but never saw them once. We enjoyed the novelty of boiling water for our morning coffees and toasting on the hot plate. I made a rookie error on the first slice of bread, burning it as the heat was too high. It was also my first time trying vegemite and avocado on toast – what have I been missing!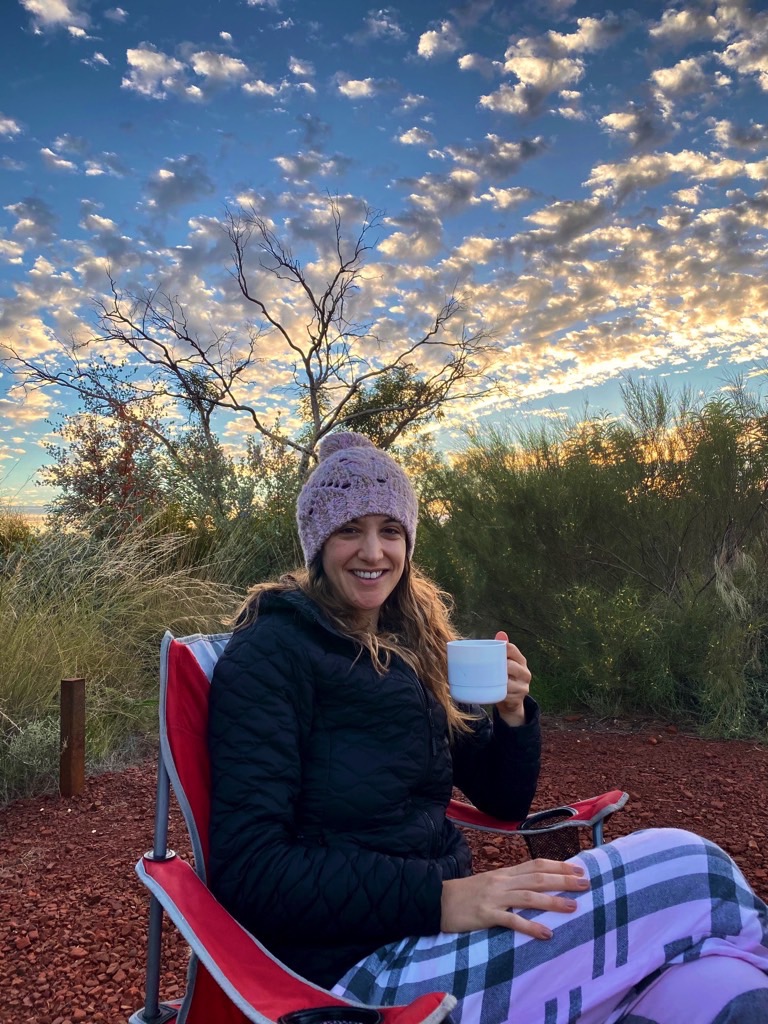 Today we drove one and a half hours to Hamersley Gorge which was a mix of sealed and unsealed road. Jenny was definitely starting to show shades of orange now. On the journey our car warnings started, from the low lobe battery to the lights sporadically turning off. All fun and games.
Hamersley Gorge was so beautiful. It was my favourite gorge that we explored. It was a mix of grade four and grade five trails and had different sections to lose yourself in.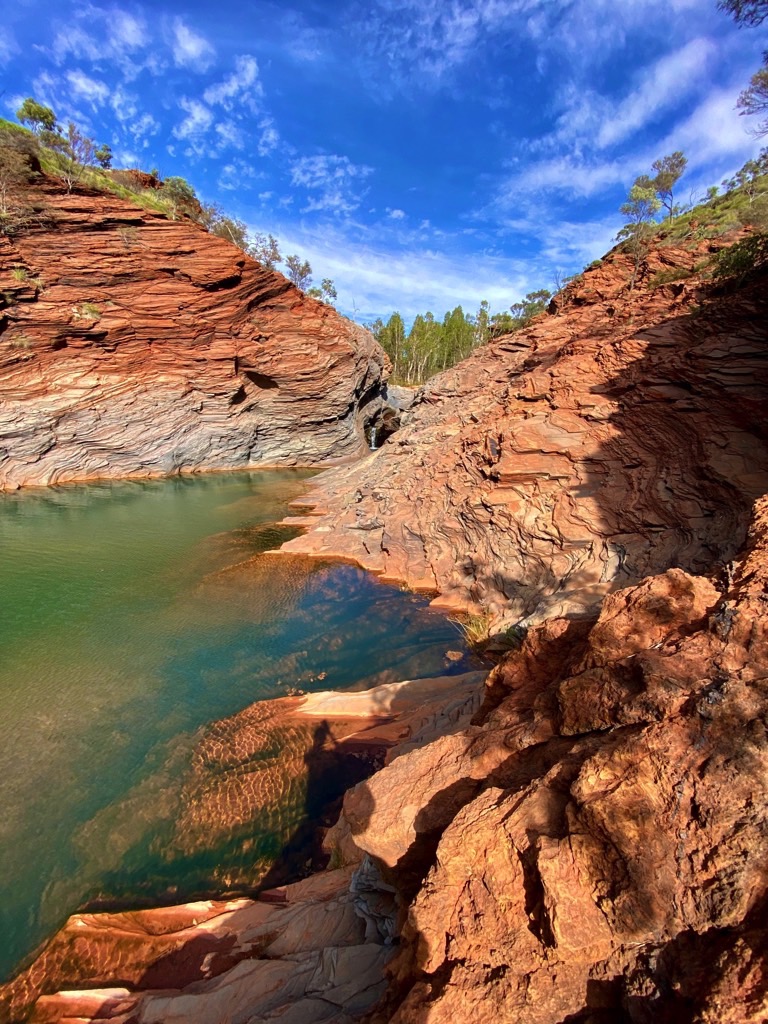 On one end you could swim through the gorge walls to an unknown ending (we only swam a short distance as we were unsure if it would end up in a waterfall) and on the other there was a small spa with a waterfall.
We spent the whole day there relaxing, reading, swimming, walking around the gorge and eating through our bag of goodies. It was truly epic!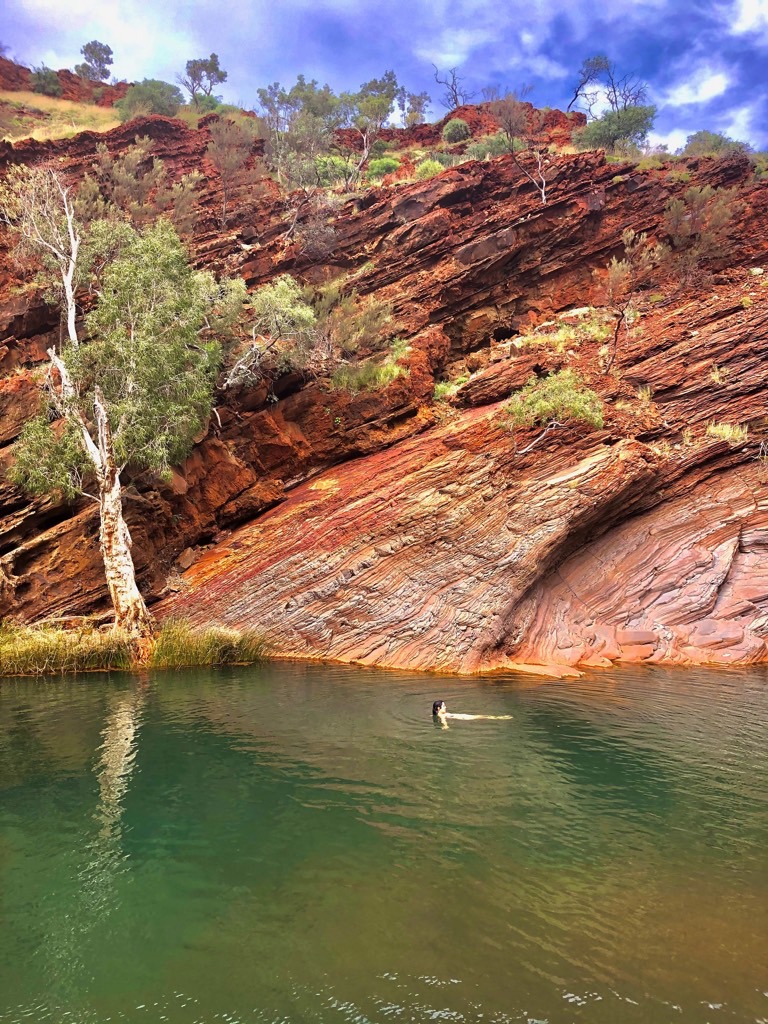 After our day in Hamersley Gorge, we drove 50 minutes to Tom Price for petrol and to change the battery of the car lobe. Lucky the gentleman in Mitre 10 was super helpful and was able to assist us. It was then another hour and 10 minutes back to the campsite where the evening was a repeat of the previous night with our leftover pasta.
The following day we took the unsealed road past the Visitor Centre to Kalamina Gorge where we went for a quick wander through the gorge. The road was very bumpy and rocky amongst it's hilliness and windiness. It was no surprise one of our tyres started losing air following this journey. Lucky for us, a daily pump up was all the tyre needed to get us all the way home.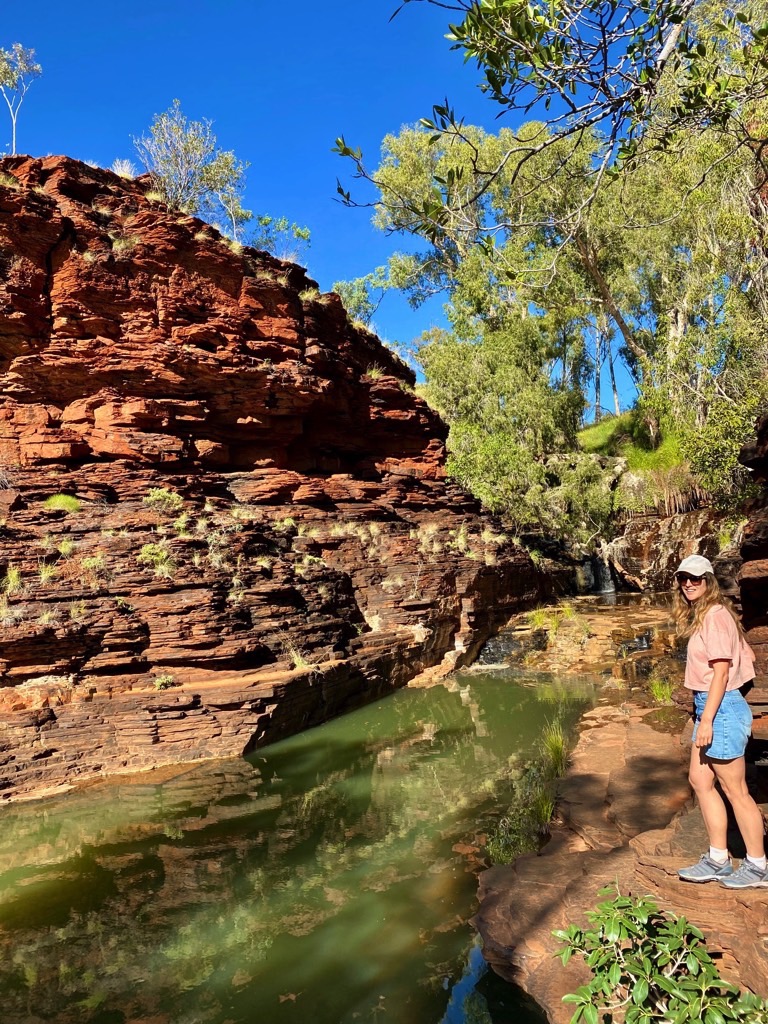 After Kalamina Gorge, we explored Joffre and Knox Gorges from above where the roads thankfully got better again.
Our main adventure of the day was to explore the gorges around Weano Recreation Area where Weano Gorge, Oxer Lookout and Hancock Gorge are. Handrail Pool was unfortunately closed during our visit due to maintenance.
We walked to Oxer Lookout, went down to Weano Gorge and then started our adventure at Hancock Gorge which was classed grade five. We walked down several uneven rocks to two staircases.
Then walked along rocks around the gorge to a water hole. We had to take our shoes off and walk through the water with rocky ground causing sore feet.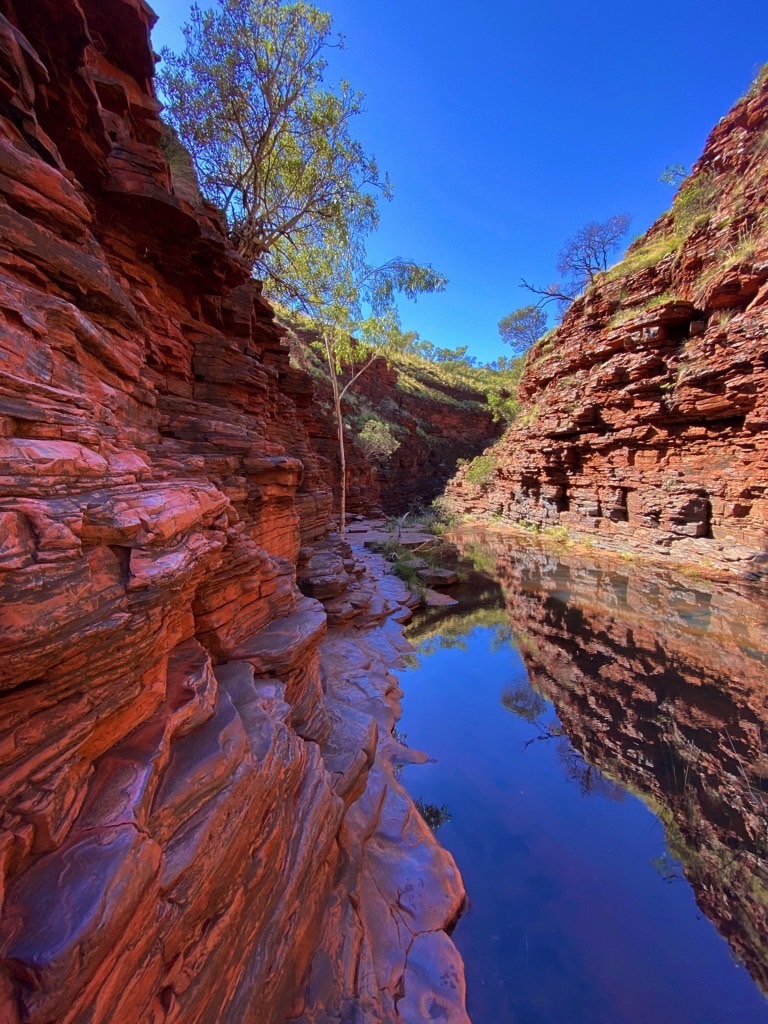 We walked over more rocks to a section where we had to rock climb and scramble along the rock edge with water below a skinny gorge. You could also swim along the water but we decided to take our backpacks so we could hang out for the day.
Once you get across, you arrive at the amphitheatre where we left our bags and conquered the spider walk section without actually spider walking. We stuck to the ground and hung on for dear life hoping not to slip.
At the end was Kermits Pool, a very small freezing pool. We did a quick jump in and got out at the quickest opportunity. Hancock Gorge definitely had the coldest water to swim in, all the other pools were comfortable temperatures. We walked back through the narrow gorge to the amphitheatre where we relaxed, ate lunch and did some reading.
Then we walked and scrambled the rock wall back to another resting area where we left our bags and went for a swim along the water way of the rocks we just walked. Again it was very cold. The scramble along the rocks seemed more difficult on the way back.
We read and relaxed for a bit longer and then made our way across the last water way before putting our shoes back on and walking back along the gorge up the staircase and rock steps to the top.
That evening we took a wine down to Dales Gorge to make the most of our last sunset. It was beautiful.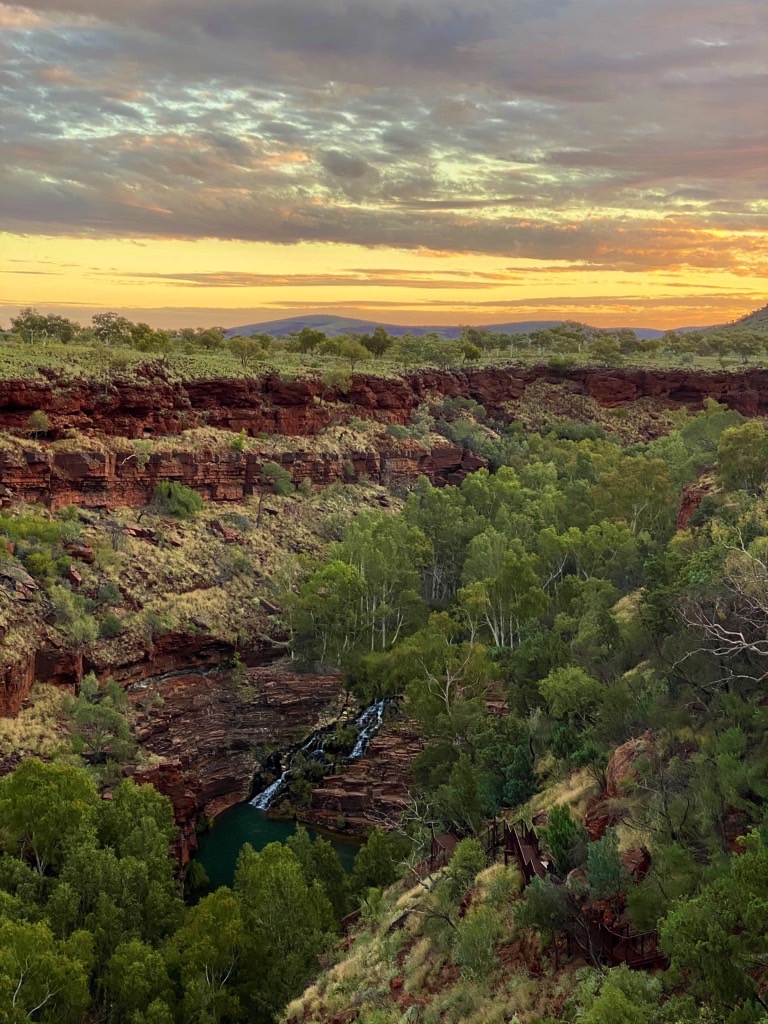 After re-packing the car, we cooked curry for our last night and enjoyed the same routine as the previous two nights.
We decided to back up our sunset with sunrise at Dales Gorge. The clouds were pretty and pink this morning.
After breakfast we packed up our site and prepared our car for our next journey to Exmouth via Nanutarra Roadhouse. We aren't sure what happened but we ended up on an unsealed road for about an hour of the journey which bypassed Paraburdoo – just as we thought we were done with red dirt! The roadhouse was a nice halfway spot for a stop with picnic tables and grassed areas.
Our three days in Karijini felt truly magical and so surreal. That landscapes so beautiful are available to us in our North West without masses of people. That you get moments to yourself in these gorges with no one around. It's truly a special place and we will definitely be back.
I will share all about our Exmouth and Coral Coast wander soon.
Until then…
LWL xxx